Eng schéi Geschicht mat engem gëllenen Enn - A beautiful story with the golden ending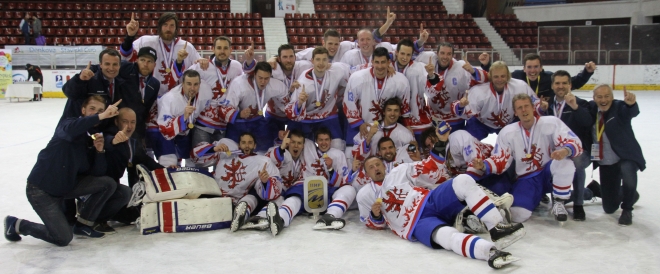 Et war eng schéin Geschicht, eng Aventure mat enger Rëtsch vu ganz engagéiert Persounen. Alles huet schonn Ufank Mäerz ugefaangen, mam Start vum Training Camp. Während dem Camp huet den Trainer Fical decidéieren missen wien mat der Equippe op d'Weltmeeschterschaft vun der III Divisioun reesen wäert. Zum Schluss goufen 20 Spiller, 3 Goalkeeper an 17 Äishockey-Spiller, fir d'Equippe zréck behalen.
D'Weltmeeschterschaft huet eng Woch gedauert an 5 Matcher fir Lëtzebuerg abegraff. 8 Equippen waren an zwou Gruppen ënnerdeelt. Onerwaart , nëmmen e puer Deeg virum Turnéier, huet Bosnien Herzegowina sech zréckgezunn an esou hunn nëmme nach 3 Equippen an der Grupp A gespillt: Taiwan, Hong Kong a Bulgarien. Lëtzebuerg huet an der Grupp B gespillt, zesummen mat den Vereenegten Arabeschen Emiraten, Georgien an Südafrika. Dach hat d'Grupp B mat dräi gläich-staarken Equippen méi Qualitéit: Lëtzebuerg, Georgien an Südafrika. Dëst Zesummesetzung huet dunn och d'Grupp B ganz opreegend gemaacht, konnten jo nëmmen déi zwou bescht Equippen an d'Hallef-Finale weider kommen.
Sonndes den 9. Abrëll huet d'Rees ugefaangen. D'Equippe ass am Nomëtteg zu Sofia ukomm wou si d'Chance hat géint'er Owend op d'Äis kënnen ze goen. Dat war eng gutt Saach well d'Spiller konnten esou hier Been no der laanger Rees vertrieden.
Dank dem Réckzuch vun Bosnien Herzegowina, gouf den Zäitplang vun dem Turnéier néi-arrangéiert. Datt huet d'National-Equippe bevirdeelegt ewéi zwee Matcher vun Moïes op Nomëtteg verluegt sinn ginn. Den éischte Match war géint d'Vereenegt Arabesch Emiraten. Dat war eng gutt Saach, well et war bekannt datt d'UAE net mat hirer beschter Equippe op den Turnéier komm ass. Dëst huet den Lëtzebuerger Zäit ginn sech un hiert néit Ëmfeld ze gewinnen. Wéi erwaart huet sech d'Equippe vun de Léiwen mat enger einfacher 17-0 Victoire am éischte Spill duerchgesat.
Den zweete Match géint Georgien war den éischte richtege Test fir d'Equippe. Patriotesch Georgier haten Südafrika kuerz virdrun an engem éischten, kierperlechen Match geklappt. Georgien hat nämlech eng Linn un Qualitéitsspiller mat russeschem Hannergrond. Dës Spiller hunn während dem Turnéier bal all d'Goler fir Georgien geschoss. Georgien huet versicht de Wëllen vun den Lëtzebuerger ze briechen ma d'Equippe ass staark bliwwen, souwuel geeschteg ewéi kierperlech. An esou ass de Match 6-4 fir Lëtzebuerg op en Enn gaangen.
No hirem Match géint Georgien hat d'Equippe een Dag fräi. Den Dag hunn si benotzt fir op d'Äis ze goen an en Tour duerch d'Haaptstad Sofia mat hirer wonnerschéiner Hostess, dem Daniela, ze maachen. Dëse fräien Dag war drénglech néideg. D'Spiller kruten domatter d'Chance gebueden Batterien virum wichtege Spill géint Südafrika nees néi-opzelueden.
An dëser Phase hat d'Equippe eng gutt Positioun an der Grupp B erreecht. Eng Defaite mat nëmmen engem Gol Ënnerscheed wär duergaangen fir déi éischt Platz an der Grupp ze beleeën. Et war wichteg déi éischt Platz an der Groupe B ze beleeë fir kennen géint déi zweet Equippe vun der Grupp A ze spillen, wat fill manner ustrengend gewiescht ass wéi géint den Gruppe-Gewënner Bulgarien spillen ze missen.
Fir Südafrika, huet de Match alles oder näischt bedeit an dat konnt een dunn während dem Match gesinn. Si hunn während dem ganzen Spill kontinuéierlech Drock gemaacht ma de Goalie
Gilles Mangen
huet am Netz de Match vun sengem Liewen gespillt an esou huet dunn d'Equippe 3-1 gewonnen.
Freideg stoung der Equippe a weidere fräie Dag zur Verfügung. De Coach
Petr Fical
hat awer decidéiert net mat der Equippe op d'Äis trainéieren ze goen an esou hat d'Léit rendorëm d'Equippe eng Chance sech um Äis ze amuséieren.
Samschdeg stoung dunn d'Hallef-Finale géint Hong Kong un. Obwuel Hong Kong eng Equippe ass déi gutt Schlittschong fuere kann, haten si keng Chance géint dat méi grouss a méi staark Equippe vum Petr Fical. Zum Schluss war et dunn eng einfach 8-1 Victoire.
Sonndeg war de groussen Dag, de leschten Dag. Fir déi éischte Kéier zanter 2003 war de Lëtzebuerger d'Chance ginn méi wéi nëmme Bronze mat heemzebréngen. De Match war géint Gastgeberland Bulgarien dem et bis elo gelongen war all seng Géigner einfach ze klappen. Bulgarien hat all seng beschte Spiller opgestallt, e puer vun hinnen koumen souguer aus Nordamerika fir hiert d'Land ze vertrieden. Sou gouf et dunn vill Talent an der Equippe, virun allem wat d'Offensiv ugeet.
De Match ass Owes gespillt ginn an esou ass d'Equippe Moies nach eng Kéier op d'Äis gaangen, schonn um 8 Auer 30. Obwuel den Training fakultativ war, sinn déi meescht Spiller hin gaangen. Nëmme déi déi schonn vill Zäit um Äis verbruecht haten, hunn decidéiert hire Kierper raschten ze loossen.
Bulgarien war de kloren Favorit vum Turnéier. Hier begaabten Stiermer hunn d'Spill gutt ugefaangen an et ass hinne gelongen den lëtzebuergesche Goalkeeper ënner Drock ze setzen. No 15 Minutten Spillzäit stoung et dunn och schonn 3-1 fir Bulgarien. Iergendwann ass dem Team du bewosst ginn dass si d'Gastgeber erausfuerderen konnten wann si hiert Spill einfach halen. An wat ass geschitt, op e Mol ass déi éischt Period 3-3 op en Enn komm an d'Equippe war erëm zréck am Spill.
An der zweeter Period ass d'Geschicht weider gaangen wéi virdrun, Bulgarien huet Drock gemaacht ma d'Equippe huet net panikéieren. D'Equippe huet Period 4-1 ofgeschloss an esou huet alles ganz gutt ausgesinn.
D'Equippe huet de Moral während der drëtter Periode net opginn an esou ass de Match 10-4 op en Enn gaangen. Wien hätt dat virun der Finale geduecht? De Phil Lepage huet am Netz eng fantastesch Arabescht geleescht an 57 potentiell Goler gestoppt, y compris een bemierkenswäerten Penalty-Schoss.
An esou war op eemol d'Wonner geschitt. D'Spiller an d'Membere vum Begleeteam sinn op d'Äis gerannt fir hier Freed auszedrécken, sech ze ëmäermelen an ze féieren. No e puer Minutten huet de Captain Scheier schonn d'Coupe an d'Luucht gehuewen an d'Party konnt lassgoen. "Kaffi ass muer um 8 Auer, fakultativ" sot den Trainer Fical während dem Fest. Während an nom Turnéier soten vill Spiller dass obwuel si schonn oft béi verschiddenen Turnéieren dobäi waren dass dëst déi éischt Kéier war dass si sech als Deel vun enger Equippe gefillt hunn. All d'Spiller hunn dat selwecht d'Ziel verfollegt an hunn alles fir d'Team ginn.
Et ginn esou vill Geschichten ronderëm d'Equippe. Eng vun deenen aussergewéinlechsten ass déi vum
Robert Beran
. Mat 47 Joer gouff hien zum beschten Stiermer vum Turnéier ausgezeechent. No der Finale huet de Robo erkläert dass hien d'Hänn vun deene meeschte Spiller gehalen huet wéi si ugefaangen un mat Schlittschong fueren an elo huet hien mat hinnen zesummen Goldmedail gewonnen. An virun allem, mat sengem Jong, dem Thierry.
Et war erstaunlech ze gesinn an ze fillen wéi d'Memberen vun dem Team, d'Spiller, d'Coachen, an all déi aner Léit vun der Equippe, sech vun Ufangs un engem Ziel verschriwwen haten an all hiert Bescht ginn hunn fir dëst Ziel ze erreechen, ganz egal wat hier Roll war. Et ass net esou oft dass e Mann esou eppes materliewe kann.
Sofia 2017, vergiess et ni.
---------------------------------------------------------------------------------------------------------------
It was a beautiful story, the journey with a bunch of very committed people. Everything started in the beginning of March when the training camp started. During the camp coach Fical had to decide who will be chosen to the final roster which will travel to the tournament. Finally, 20 players, 3 goalies and 17 skaters were chosen to THE TEAM
.
Tournament lasted one week and included 5 games. 8 teams were divided to two groups. Surprisingly, only few days before the tournament, Bosnia withdrawn so the group A was played between 3 teams. Taiwan, Hong Kong and Bulgaria. Luxembourg played in the group B together with United Arab Emirates, Georgia and South Africa. In advance, the host Bulgaria was named as a favorite of the tournament. Still the group B had more quality as there were three teams with equal strength, Luxembourg, Georgia and South Africa. This set up made the group very exciting as only two best teams could continue to the semi-finals.
Sunday 9th of April was a travelling day, THE TEAM arrived to Sofia in afternoon and they had chance to go on ice in the evening. That was a good thing so the players could fresh up their legs a bit after the long travel.
Thanks to the withdrawal of Bosnia, the tournament schedule was re-arranged. That favored THE TEAM as now two morning games were postponed to afternoon. First game was against UAE. That was a good thing as well, because it was known that UAE didn't come to the tournament with their best team so THE TEAM had time to settle down to the environment. As expected THE TEAM took an easy 17-0 win in the first game.
The second game against Georgia was a first real test for THE TEAM. Patriotic Georgians had beat South Africa in their first, very physical game. Georgia had one line of quality players who had Russian background. Those players scored almost all Georgia's goals in the tournament. Georgians tried destabilize Luxembourg's mentality but THE TEAM kept strong both in mentally and physically. The game ended 6-4 for Luxembourg.
After Georgia game THE TEAM had a day free, which they used on ice and by having a city tour with their hostess, beautiful Daniela. The free day was needed. Players had a chance to charge their batteries for an important game against South Africa.
In this phase THE TEAM was in a good position in the group. One goal loss against South Africa would have been enough to get the 1st place in the group. 1st place was important because then THE TEAM would play against the second team of the other group which is much less challenging than the group winner Bulgaria.
For South Africa, the game was all or nothing and it was seen in the game. They were pushing hard through the game but
Gilles Mangen
played a game of his life on the net and THE TEAM won 3-1.
On Friday, THE TEAM had another free day in the tournament. Coach Fical decided not to go on ice with THE TEAM so off-ice crew had a chance to have some fun on ice.
On Saturday, THE TEAM had a semi-final against Hong Kong. Hong Kong has a well skating team, but still they didn't have a chance to challenge bigger and stronger TEAM. In the end, it was easy 8-1 win for THE TEAM.
Sunday was a big day, the final day. First time since 2003 Luxembourg will get something more noble metal to bring home than bronze. The game was against the host Bulgaria who had won easily all the opponents so far. Bulgaria had collected all their best players together, some of them had come from North America to represent their country so there was plenty of talent in the team, especially in offensive wise.
The game was an evening game so the team went on ice on the morning, 8:30am already. The practice was optional but still most of the guys wanted to use it. Only those who had got lot of time on ice so far decided give some rest for their bodies.
Bulgaria was clear favorite in the tournament. Their skillful forwards started the game well and could put the pressure to THE TEAM's net. After 15 minutes of playing the game was already 3-1 for Bulgaria. Somehow in this point THE TEAM noticed that if they keep their play simple they can challenge the hosts. And what happened, suddenly the first period ended 3-3 on the scoreboard and THE TEAM was back in the game.
In the second period the story line of the game kept the same, Bulgaria was pushing but the smart TEAM didn't panic. THE TEAM won the period 4-1 and everything looked very good.
THE TEAM kept the same spirit during the third and the game ended 10-4. Who would have believed that before the final? Phil Lepage on the net made a good job by making total 57 saves in the game including one amazing glove save from the penalty shot.
Suddenly the miracle has happened! Players and staff rushed on the ice to shout, hug and celebrate. After few minutes captain Scheier was already raising the trophy towards the roof of Winter Palace and the party was ready to begin. "Breakfast at 8am, optional" announced coach Fical during the celebration. During and after the tournament many players said, that after taking a part to these tournaments so many times, this time was the frist when they really were part of THE TEAM. All the players committed to the same aim and did everything only for THE TEAM.
This TEAM contains so many stories behind of it. One of the most remarkable ones is the story of
Robert Beran
. In age 47 he was announced of the best forward in the tournament. After the final Robo told that he had hold the hands of most of the players in THE TEAM when they were learning to skate and now he won the gold medal together with them. And especially, together with his son, Thierry.
It was amazing to see and feel how all the members of THE TEAM, players, coaches and other staff committed to the same aim from the beginning and all did their best to reach the big aim, despite what their role was. It's not so often when a man can experience something like this.
Sofia 2017, never forget.
Melde dich anhand eines sozialen Netzwerkes an:
oder erstelle ein neues Konto hier:
oder
Du hast schon ein Konto? Melde dich hier an: