Rencontre mam Premier - Meeting with the Prime Minister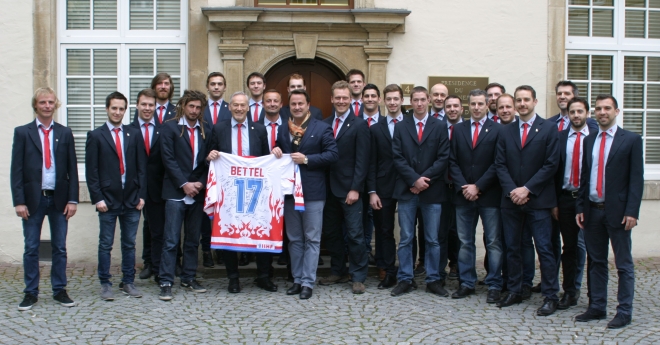 Haut hat den Här Premier Xavier Bettel die houfreg Goldmedailistsn vun der lëtzebuergescher National Equipe am Äishockey ganz frëndlech bei sech an de Bureau agelueden fir hinen fir hier Victoire an der Weltmeeschterschaft vun der drëtter Divisioun zu Sofia ze wënschen. Hie sot, dass hie ganz houfreg op d'Leeschtung vun der Equipe wier an wat et fir Lëtzebuerg bedeit an dass een dat ervirhiewen misst.
Duerno huet d'Equipe him en personaliséierten Trickot mat sengem Numm an der Nummer 17 als Uspillung un 2017 iwwerreecht. Hie war ganz beréiert. D'Equipe huet hien dunn no Baussen fir d'Gruppefoto begleet wou hien stolz säin Trikot gewisen huet.
Nodeems d'Foto geholl ginn war, huet de Premier sech nach mei Zäit geholl fir bei engem Glas Crément an enger Tranche Rieslings Paschtéit méi iwwert d'Spill, d'Spiller an d'Weltmeeschterschaft ze héieren. Et guff vill gelaacht . Fir desen speziellen Dag ofzeschléissen huet hien der Equipe du nach sein stylvolle Bureau gewiesen an en klengen Abléck an d'Liewen vun engem Premier ginn. Zum Schluss huet den Här Bettel dunn och Interessi gewisen emol e Spill kucken ze kommen. Et gesäit esou aus als hätt d'National Equipe en neie Fan dobäi gewonnen an den Här Premier 25 dankbarer en retour.
-----------------------------------------------------------------------------------------------------------
Today Prime Minister Xavier Bettel very kindly invited Luxembourg's proud Gold Medalists to his office to congratulate them on their win in the 3rd Division Championship in Sofia. He said that he was very proud of the teams achievements and what it meant to Luxembourg and that it deserved to be highlighted.
After that the team presented him with a personalized jersey carrying his name and the number 17 in honor of Luxembourg's win in 2017. He was visibly moved. The Team followed then the PM outside for a group picture where the Mr. Bettel proudly displayed his jersey.
After having the picture taken Mr. Bettel took even more time out to discuss over a glass of Crement and a slice of Riesling Pasteit the game, the players' personal histories and the championship. There were many laughter. To finish this special day he gave the Team a tour of his arty office giving a peek inside the job of Prime Minister. At the end Mr. Bettel even expressed interest in coming to a hockey game. It looks Team Luxembourg has won a new fan and Mr. Bettel 25 grateful ones in return.
Melde dich anhand eines sozialen Netzwerkes an:
oder erstelle ein neues Konto hier:
oder
Du hast schon ein Konto? Melde dich hier an: