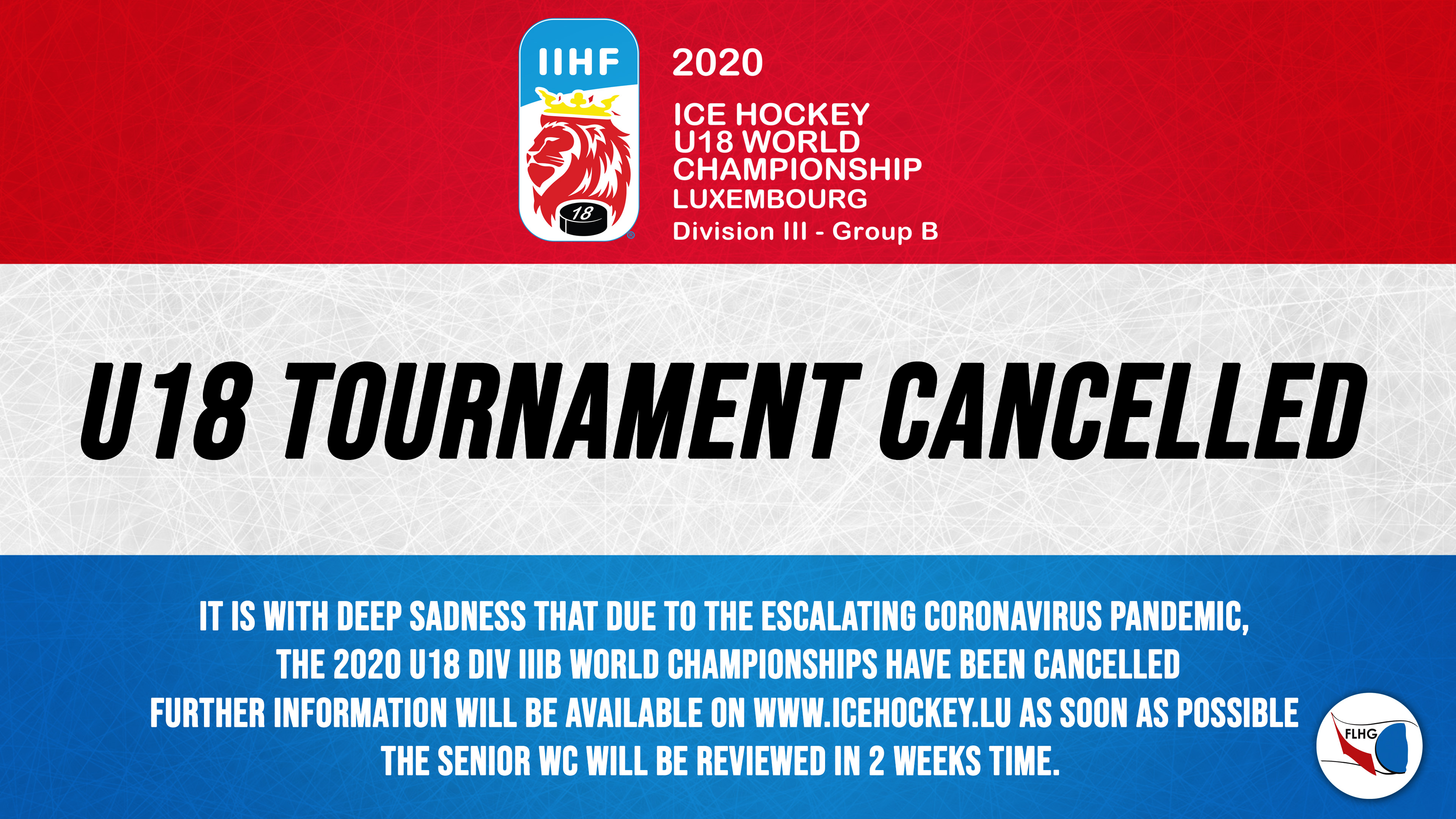 2020 U18 World Championships cancelled / championnats du monde U18 annulé
Due to the escalating coronavirus pandemic, it is with deep sadness that the FLHG must announce the cancellation of the 2020 IIHF division IIIB under 18 World Championships originally scheduled to take place on March 29 - April 4th. The Luxembourg federation were informed today of the decision taken by the IIHF to cancel all tournaments taking place in the month of March. The health and safety of our athletes, staff and public is the highest priority for both the Luxembourg and International Ice Hockey federations. We apologise for any inconvenience this may cause. 
At this moment, the Senior World Championships scheduled for April 19 - 25 will take place. This will be reviewed by the IIHF in 2 weeks. As soon as more information arrives we will share it with you all.

https://www.iihf.com/en/news/18277/iihf-cancels-march-tournaments

FRANçAIS
Avec l'escalade de la pandémie de coronavirus, c'est avec une profonde tristesse que le FLHG doit annuler les championnats du monde 2020 IIHF de la division IIIB sous 18 ans, initialement prévus du 29 mars au 4 avril. La fédération luxembourgeoise a été informée aujourd'hui de la décision prise par IIIHF d'annuler tous les tournois qui se déroulent au mois de mars. La santé et la sécurité de nos athlètes, de notre personnel et du public est la plus haute priorité pour les fédérations luxembourgeoise et internationale de hockey sur glace. Nous présentons nos excuses pour le dérangement que cela pourrait causer.
En ce moment, les championnats du monde seniors prévus du 19 au 25 avril auront lieu. Cela sera examiné par lIIHF dans 2 semaines. Dès que plus d'informations arriveront, nous les partagerons avec vous tous.
DEUTSCH
Aufgrund der eskalierenden Coronavirus-Pandemie muss die FLHG mit großer Trauer die Absage der IIHF-Division IIIB 2020 unter 18 Weltmeisterschaften bekannt geben, die ursprünglich vom 29. März bis 4. April stattfinden sollten. Der luxemburgische Verband wurde heute über die Entscheidung des IIHF informiert, alle im März stattfindenden Turniere abzusagen. Die Gesundheit und Sicherheit unserer Athleten, Mitarbeiter und der Öffentlichkeit hat sowohl für den luxemburgischen als auch für den internationalen Eishockeyverband höchste Priorität. Wir entschuldigen uns für etwaige Unannehmlichkeiten.
In diesem Moment finden die für den 19. bis 25. April geplanten Senioren-Weltmeisterschaften statt. Dies wird in 2 Wochen vom IIHF überprüft. Sobald weitere Informationen eingehen, werden wir diese mit Ihnen allen teilen.