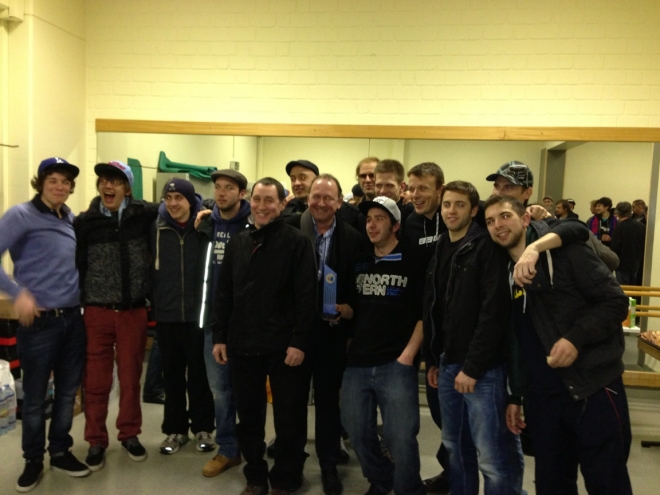 Winning team: Tornado Luxembourg
Alter Domus Cup: Tornados are Champions
After a long 2012-2013 season, the Luxembourgish national championship, known as Alter Domus Cup, came to an end last night as the two last games on the schedule were played. A great night was awaiting the teams and the spectators, as the IHC Beaufort 1 and the Puckers Luxembourg were battling for the second place until the very last moment. The Puckers needed a win against the Huskies team to secure their second place, while the IHCBE needed a win against leader Tornado Luxembourg to take over the second place.



The first game of the night was held between the Puckers and Huskies. The Huskies played very compact hockey and both teams showed themselves in a very disciplined manner. In the end, the Huskies won with a score of 6-3, lead by Huskies Player Daniel Kraval who scored a hattrick. This said, the Puckers had to put their hopes in the Tornados to save their second spot.



The second game of the night was held between the IHC Beaufort 1 and the Tornado Luxembourg. Both teams put on a great show and truly entertained the numerous spectators that came to witness this thrilling game. Until the last 10 minutes, the Tornados were trailing 3-4. But the Tornados managed to turn the game around with a great team performance and a hattrick by Teemu Hinkula and thereby send the IHCBE home with a 5-4 loss.



Full game recaps will follow soon!



The final standings:

1. Tornado Luxembourg

2. Puckers Luxembourg

3. IHC Beaufort 1

4. Huskies Luxembourg

5. IHC Beaufort 2



Notable facts:

- The Tornado Luxembourg ended the season with a league-low 17 goals against and a league-high 159 goals scored. Thats more then twice as much as the second ranked Puckers.

- Colm Cannon finished the season as the leagues' best scorer with 46 points, followed by Benny Welter and Marcus Eriksson.

- U20 Rookie Jiri Kraval ended up being 5th in the Topscorer List! His fellow U20 players Thierry Beran (7th) and his brother Daniel Kraval (8th) also managed to finish in the Top10.