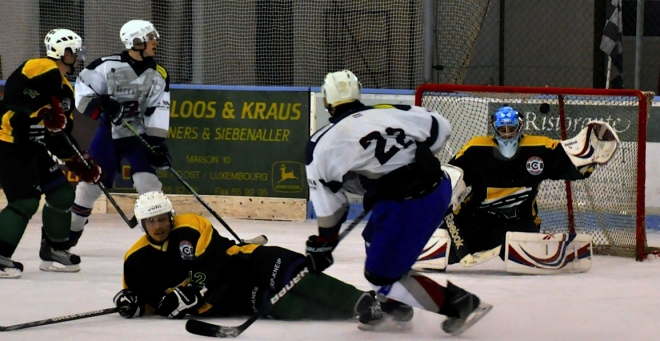 IHC Beaufort 1 and Tornado Luxembourg can't declare a winner, tie 1-1
The Tornado Luxembourg visited the IHC Beaufort 1 on November 26th in the Patinoire de Beaufort. It was a game full of emotions that many people here in Luxembourg had been looking forward to. It was the very first time that these two teams played each other, knowing that the team from Beaufort is mainly composed of players that left the Tornado organization two years ago. Many players left the french division 3 club in order to play for Beaufort, who is currently playing in Germany. Among these players were Tornado All Time Scoring Leaders Benny Welter and Robert Beran, but also many other key players from the national team of Luxembourg. Even behind the Beaufort bench is former Tornado and national team coach Hakan Grönlund. This game was a true rivalry, filled with emotions and players willing to win. In the end, none of the teams managed to rack up a victory as the game ended 1-1.



The first period was in the hands of the home team. Robert Beran scored the opening goal of the game for the hosts at 19:14, after firing an unstoppable shot from the slot past goaltender Philippe Lepage. At the end of the first, the home team was leading 1-0.



The visiting team came back strong in the second period. Philippe Bechtold brought his team back to the game by scoring the tying goal on a shot from the blue line that was deflected just in front of the net. With 2 periods played, the score was 1-1.



The last period was highlighted by a good fist-fight between Kevin Grönlund an Pierre-Alexandre Cauchois, after Grönlund hip-checked his opponent with one meter distance from the boards. Nevertheless, none of the teams managed to find the back of the net and the game ended with a 1-1 score.



"It was an entertaining game. We clearly underestimated them even though they have key players of the national team on their roster. They were extremely motivated and made a lot of pressure in the beginning. In the end I think the score is alright and I'm looking forward to the return match on home ice!" said Philippe Lepage of the Tornado Luxembourg.



The IHC Beaufort 1 will play their next game on December 1st against the Hiversport Huskies Luxembourg, whereas the Tornado Luxembourg meet with the Valenciennes on December 1st.