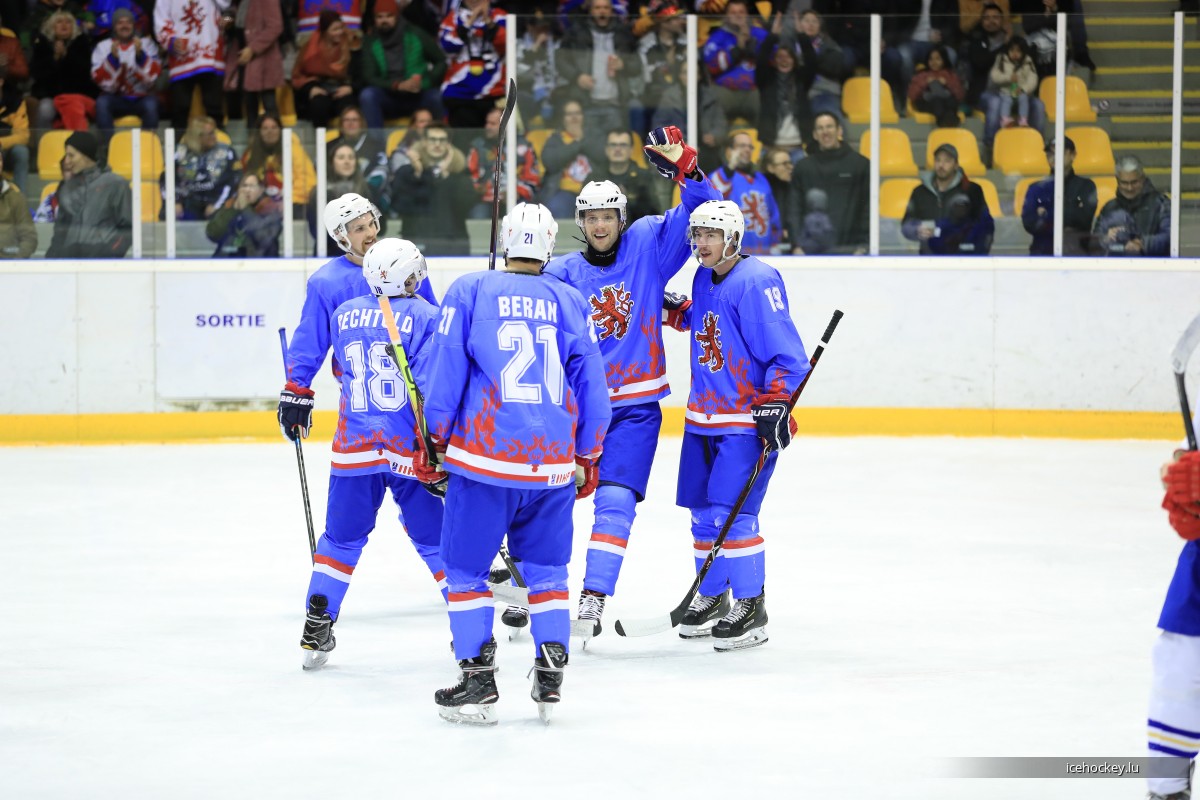 LUXEMBOURG 10 - 1 BOSNIA & HERZEGOVINA
17 year old Vlad Shelest scores hat trick as Lions roar

The Oxford English dictionary defines the word "Prodigy" as "A young person who is unusually intelligent or skilful for their age". Luxembourg has had a few in sports over the years. Mandy Minella, Andy Schleck & Fleur Maxwell come to mind. After Friday night, perhaps we should soon add the name Vlad Shelest to that list after the teen sensation scored an International hat trick 24hrs after turning 17 years young.


Day 1 of the 2022 Winter Olympic games first Qualification round began with an intense battle between newly-promoted UAE (to World Championship division 3) and Kyrgyzstan. After 2 periods of play the match up was locked at 4-4 until Russian & Kazakhstani trained Vladimir Tonkihk, Vladimir Nosov and Aleksandr Titov took over, powering Kyrgyzstan to an impressive 9-4 victory. But this day belonged to the host nation of Luxembourg.
Competing in and hosting Olympic Qualifiers for the first time ever one would have expected a tense atmosphere amongst staff and fans. This however was not the case as the squad seemed very relaxed and focused on the task at hand. Speaking to Liam McEvoy before the game, Team Manager Teemu Hinkula used the analogy "I'm happy now the train is moving… It's been a lot of work preparing, but now I feel like if we stick to the plan we can just enjoy the ride…" and boy, did they ever enjoy Friday night.


Before April's World Championship campaign began an emphasis was put on youth in the team selection. New to the team were Niklas Meijer, Demir Mededovic. Natan Weyders & Vlad Shelest. All of whom were born after Jan 1st 2000. This was a team built for the future. Now 7 months on from that experience and the decision is starting to pay dividends. Although Meijer and Weyders miss this tournament, the young core of Team Luxembourg was bolstered by the 1st-time call ups of Markus Beran and David Church.
Church and Beran both had a solid game against Bosnia & Herzegovina on Friday night but unquestionably the star of the show was Vlad Shelest. Playing for the first time on home ice, in front of one of the largest crowds ever at Patinoire de Kockelscheuer and on the 1st line next to 2017 division 3 world champions Marcus Eriksson and newly-appointed captain Colm Cannon. 24hrs after turning 17 years old, no pressure.
Shelest is a polite, humble young man who listens more than speaks. He lets his qualities as a hockey player do the talking. "I've played with him for years, he's so deceptively strong… and what a wicked shot.." Beamed Niklas Meijer after the 2nd period where Shelest had registered a hat trick of goals.
Although many of the plaudits will go to Shelest in the media today, this was as complete of a team performance as Luxembourg has played in many years. With all due respect to Bosnia & Herzegovina, they were completely outmatched as Luxembourg racked up 10 goals on a stunning 50 shots on target.
7 different players scored as the Lions were lead from the back by a man-of-the-match performance from former Tornado Luxembourg defenceman Sebastien Grein. Grein's skating ability, vision and puck distribution notched him 3 points (2 goals, 1 assist) and very nearly a 4th after a 50ft bullet of a pass sprung fellow Defenceman Michael Cannon on a breakaway that agonisingly clanged off the post. Another stand out performance came from Thierry Beran, who's speed and tenacity were sorely missed during the World Championships.
After that campaign, much was made of Team Luxembourg's ability, or lack of, during special team situations. Finishing that tournament with the worst ranked power play and penalty kill (7.69% PP conversion, 63.16% PK). 7 months have passed since that tournament and the weekly training sessions on the ice with Head Coach Petr Fical and off ice video sessions with Assistant Coach John Bierchen have done wonders. Luxembourg scored 4 goals on 5 power play opportunities (80%) and killed 100% of the 3 shorthanded situations, even scoring 2 goals while playing 4 men against 5. More than the numbers though, the power play was visibly more structured. The Lions moved the puck with finesse and patience as they set up in a classic 1-3-1 formation modelled off of the San Jose Sharks deadly power play. In the dressing room, veteran Marcus Eriksson huddled with his line to discuss the more intricate details of the power play system. This communication from the team's leadership will be key if Luxembourg hope to enjoy this kind of success against the much stronger Kyrgyzstan on Saturday night.


No recap of this performance would be complete without mentioning the rabid support of the home and away fans. The stands were packed nearly to capacity and the atmosphere was electric. Lead by a large group of die-hard hockey fans from our neighbours in Germany who were amongst the very first to ask for ticket details once the tournament was announced. Their energy and noise will be something the young Lions will feed off of in the coming 2 games, starting tonight at 19.15 in a clash that could possibly determine the winner of the qualifying round.


Article by Liam McEvoy

Lëtzebuergesch version to follow..


The schedule for this weekend is as follows:


United Arab Emirates 4-9 Kyrgyzstan


Bosnia & Herzegovina 1-10 Luxembourg
https://www.icehockey.lu/media/gallery/photos/galleryID/4266
https://www.iihf.com/en/events/2020/ogqp1n/gamecenter/statistics/15139/2-bih-vs-lux


Saturday 9th November 2019
15:45 United Arab Emirates vs Bosnia & Herzegovina
19:15 Luxembourg vs Kyrgyzstan


Sunday 10th November 2019
15:45 Kyrgyzstan vs Bosnia & Herzegovina
19:15 Luxembourg vs United Arab Emirates


Livestream available on the IIHF website of the event:
https://www.iihf.com/en/events/2020/ogqp1n


Tickets are available now online at:
https://www.icehockey.lu/news/the-ticket-sale-to-olympic-qualifications-is-open-19377/