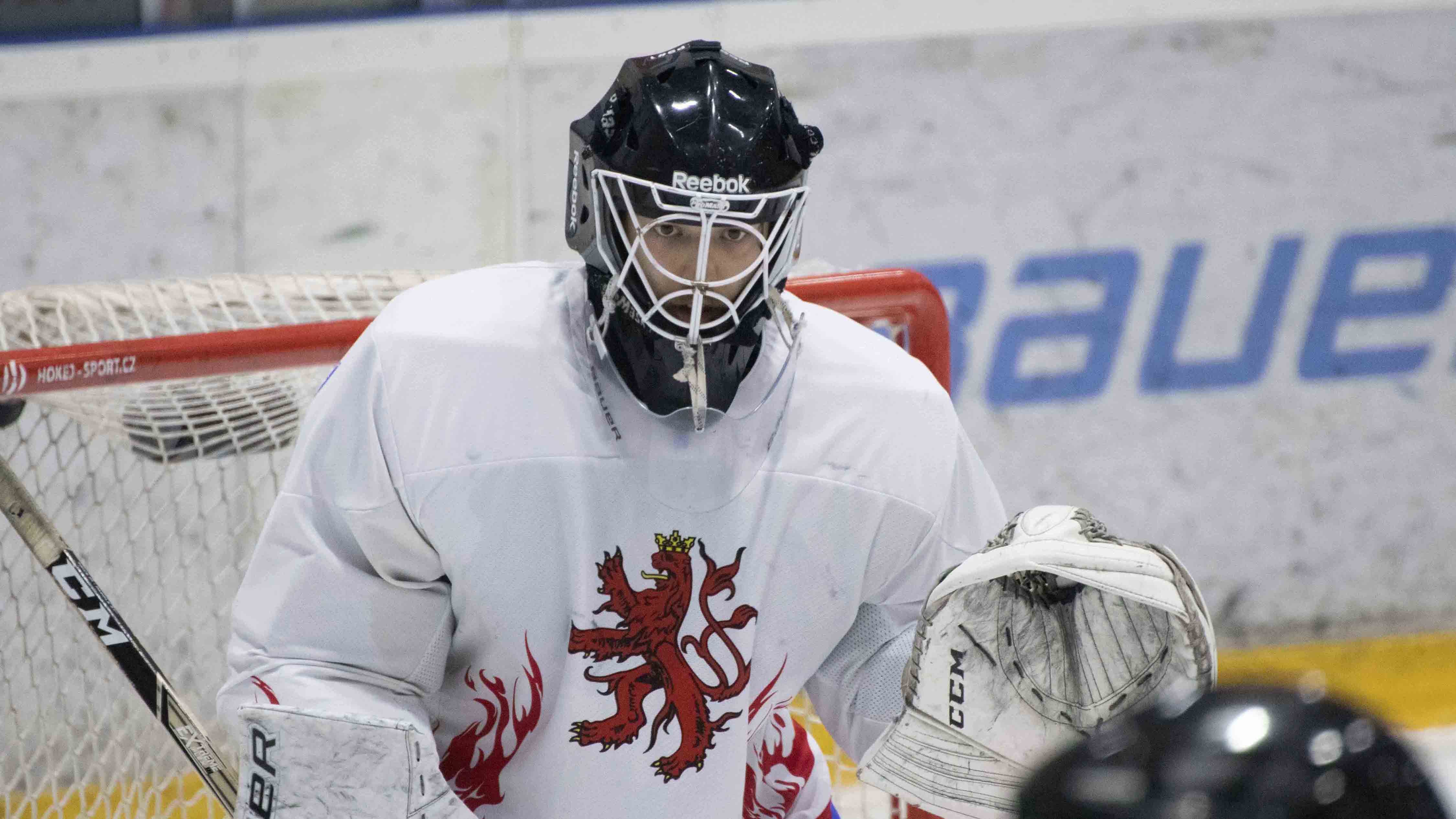 Luxembourg back in Gold Medal contention with win
After Tuesday night's heartbreaking loss to Chinese Taipei the spirits of the Luxembourg team were understandably low. This was a game they should have won on paper, this was a game where they turned a 2-1 deficit into a 3-2 lead in under 150 seconds and this was a game they mostly controlled, out-shooting their opponents 35-28. On Tuesday night the hockey gods were not in Luxembourg's favour, on Thursday, they were. With Luxembourg's win and as a result of Turkey unexpectedly defeating Chinese Taipei, the Lions are now back in control of their own destiny. Knowing wins in their remaining 2 games against Turkmenistan and Bulgaria will secure a 2nd Gold medal in the past 3 years. Quite the turnaround from 48hrs previously.
The opening 20 minutes of this afternoon's game against South Africa though, were anything but pretty. It was the South African's that started on fire. They attacked with ferocity, speed and intent. Within minutes Marcus Anselm was called upon time and time again to make outstanding saves against odd-man rushes. With the Lions on the back foot and scrambling in defence. Pit Sinner took the first penalty of the day for holding. The penalty kill did their job but the momentum was solidly in South Africa's corner. Their persistent attacks paid off in the 5th minute when Samaai Uthman gave the underdogs their first lead at this tournament. Luxembourg was in shock. For 5 more minutes Anselm was peppered with shots in the Luxembourg net until, against the run of play, the influential Sacha Backes scored his 3rd goal of the championships with a perfect rebound collection after a stinging Colm Cannon shot couldn't be held by the South African goalie. The lions managed to escape the 1st period at 1-1 but coaches Petr Fical & John Bierchen could not have been happy seeing their team out-shot 14-3 by the team sitting last in the standings. 
One can only imagine what was said in the dressing room, but whatever it was, it worked. Luxembourg looked like a new team from the first face-off of the 2nd period. A late hit penalty to Mirko Mosr left the Lions shorthanded. However, a great face-off win by Benny Welter 2:46 minutes into the period came back to Philippe Bechtold and his slap shot from the blue line was re-directed by Welter and into the net for Luxembourg's 2nd shorthanded goal of the tournament. Afterwards, the penalty to Mosr was killed and Luxembourg went back to work. A barrage of attacks were rewarded in the 35th minute of the game. This Lions team has proven it is capable of scoring in bunches and today was no different. They notched 2 goals in 16 seconds. Benny Welter scored his 2nd with a backhand after a scramble in front of the South African net and then Sacha Backes moved into 3rd position in the goal scoring charts with his 2nd of the game and 4th of the tournament. Backes' goal noticeably pleased the coaching staff and his line-mates as Marcus Eriksson explained in an interview with Liam McEvoy, "I was standing high as the 3rd forward like we've talked about all week, the coaches have been quite hard on us to stay (in that position)… a good shot and Sacha was there high as well for a good rebound goal." As the 2nd period ended Luxembourg could breathe easier with the 4-1 lead.
The third period was an unusual one to watch. Down 3 goals and facing the prospect of entering the final 2 games with 0 points, the South African coaching staff decided to gamble and pulled their goalie for the 6th attacker with nearly 7 minutes remaining. With Luxembourg playing 5 vs 6 and the South Africa net open the next few minutes were essentially Luxembourg attempting goals from 200ft away, a dangerous game to play as every miss resulted in icing calls and face-offs in the defensive zone. The tactic did comeback to bite the lions as at 57:17 Marais Andre cut the lead to just 2. Thankfully for Luxembourg just 12 seconds later one of their NFL style punts landed in the back of the net curtesy of Kevin Grönlund. The Lions saw out the last few seconds and even had a penalty shot for U18 star Vlad Shelest  saved. Final score Luxembourg 5-3 South Africa, 
In the following matchup Turkey shocked the division coming back from 3-1 down to hammer Chinese Taipei 4-7. That result put Luxembourg back in control of its own gold medal destiny. The Lions will keep a very close eye on the Bulgaria vs Turkmenistan match tonight as the result of that matchup could play a huge role in the final rankings on Sunday. Next up for Luxembourg is another must-win game against Turkmenistan today at 15:30 CEST. We've already seen plenty of drama through days 1-3, So you won't want to miss any action. 
Lions MVP: Sacha Backes 

FR

Après la défaite haletante de mardi soir contre Taiwan, le moral de l'équipe luxembourgeoise était au plus bas. Ce fut un match qu'ils devaient gagner sur le papier, un match au cours duquel ils ont su transformer un déficit de 2-1 en une avance de 3-2 en moins de 150 secondes et c'était un match qu'ils contrôlaient dans la plupart des compartiments du jeu, menant leurs adversaires par 35-28 aux tirs. Mardi soir, les dieux du hockey n'étaient pas en faveur du Luxembourg. Ce jeudi, ils l'étaient. Non seulement Luxembourg récoltait 3 précieux points mais la Turquie l'emportait sur Taiwan dans le même temps. 
Les Lions ont repris le contrôle de leur destin. S'ils battaient le Turkménistan et la Bulgarie lors des deux derniers matchs, ils remporteraient leur deuxième médaille d'or en trois ans. Un revirement de situation radical par rapport aux 48 heures précédentes.
Les 20 premières minutes du match du jours contre l'Afrique du Sud n'avaient rien d'attrayantes. C'est l'Afrique du Sud qui mis le feu aux poudres. Ils attaquaient d'emblée avec de très belles intentions. En quelques minutes, Marcus Anselm était sollicité à maintes reprises, ce qui lui permettait de réaliser d'excellents arrêts. Les Lions étaient sur le reculoir mais tenaient bon. Pit Sinner prenait la première pénalité du jour pour « retenir ». Le powerplay qui suivait ne donnait rien, mais la pression de l'Afrique du Sud restait forte. Leurs attaques persistantes finissaient par porter leurs fruits à la 5ème minute lorsque Samaai Uthman donnait aux outsiders leur première avance dans ce tournoi. Le Luxembourg était sous le choc. Pendant les 5 minutes suivantes, Anselm continuait à repousser les assauts sud-africains jusqu'à ce que l'influent Sacha Backes inscrive son troisième but du championnat sur un lancer de Colm Cannon repoussé par le gardien sud-africain. Les lions s'en tiraient bien en quittant la glace avec ce 1-1 à la pause. Mais les entraîneurs Petr Fical et John Bierchen étaient furieux de voir leur équipe menée 14-3 aux tirs par l'équipe dernière au classement du tournoi. 
On ne peut qu'imaginer ce qui s'est dit dans le vestiaire, mais quoi qu'il en fût, cela a fonctionné. Le Luxembourg semblait métamorphosé, et ce, dès le coup d'envoi de la 2ème période. Mirko Mosr laissait ses coéquipiers en infériorité numérique pour « charge tardive ». Cependant, Benny Welter sortait victorieux du face-off qui suivait (22:46) et la rondelle revenait à Philippe Bechtold qui prenait le tir de la ligne bleue. Welter déviait dans le filet pour le 2e but en infériorité numérique du tournoi. De retour à 5 contre 5, le Luxembourg reprenait sa marche en avant et les efforts offensifs étaient récompensés à la 35e minute de jeu. Cette équipe de Lions a su prouver qu'elle était capable de marquer des buts en équipe et aujourd'hui, elle n'a pas fait exception à la règle en marquant 2 buts en 16 secondes. Benny Welter a marqué son 2e but en revers après un cafouillage devant le but sud-africain, puis Sacha Backes passait en 3e position dans le classement des buteurs avec son 2e du match et son 4e du tournoi. Le but de Backes était un soulagement pour ses entraîneurs et à ses coéquipiers, comme l'explique Marcus Eriksson lors d'une interview avec Liam McEvoy : " Je me tenais un peu plus haut comme un 3ème attaquant comme nous en avions parlé toute la semaine. Les entraîneurs ont beaucoup insisté là-dessus.... J'étais en position idéale pour un bon lancer puis Sacha était là pour reprendre et marquer ". A l'issue du 2ème tiers-temps, le Luxembourg reprenait son souffle avec une avance confortable (4:1).
La troisième période fut assez surprenante. Menés de 3 buts avec la perspective d'entamer les deux derniers matchs avec 0 points, les entraîneurs sud-africains décidaient de jouer et retiraient leur gardien de but pour un 6ème attaquant à pratiquement 7 minutes de la fin. Ce fut d'abord payant. Alors que le Luxembourg jouait à 5 contre 6, l'Afrique du Sud marquait. Dans les minutes suivantes, le Luxembourg se contentait de lancers à 60 mètres de distance. Un jeu dangereux puisque chaque tentative manquée était pénalisée de « dégagements interdits » et donc suivies de face-offs dans la zone défensive. Heureusement pour le Luxembourg, un de ces tirs lointains était détourné dans le but par le dos de Kevin Grönlund (57:17). Dans les dernières secondes, Vlad Shelest, la star des lionceaux U18, manquait un penalty mais le Luxembourg pouvait souffler. Score final 5-3 pour Luxembourg. 
Dans le match suivant, la Turquie a frappé un grand coup en revenant de 1-3 pour gagner finalement 7-4 contre Taiwan. Ce résultat permet au Luxembourg de reprendre le contrôle de son destin et d'envisager de nouveau la médaille d'or. Les Lions garderont un œil très attentif sur le match Bulgarie-Turkménistan de ce soir, car le résultat pourrait jouer un rôle déterminant pour le classement final dimanche. Le prochain match du Luxembourg contre le Turkménistan aura lieu aujourd'hui  à 15h30 (heure de Paris). Nous avons déjà eu une belle dose de dramaturgie au cours des journées 1 à 3, vous ne voudrez donc surement pas en manquer une miette. 
MVP : Sacha Backes 
Letzebuerg zereck fir Gold
No der onerwarten Nidderlag geint Chinese Taipei war Moral bei den Letzebuerger nett wirklech gudd. Deen Mätch hätten Letzebuerger missen gewannen zumols nodeems se en 2-1 Reckstand no nemmen 150 Sekonnen an en 3-2 Firsprong verwandelt hun an den Mätch grestendeels dommineiert hun. En Denschden war den Hockey Gott nett op letzebuerger Sait awer Geschter wor heen et erem-
Nodeems Letzebuerger geint Südafrika gewonnen huet an Türken geint Chinese Taipei, sin Roud Leiwen elo erem zereck am Turneier, an mat engem positiven Resultat geint Turkmemistan an Bulgarien wier esou guer erem Gold meigelech.
Dei eischt 20 Minuten geint Sudafrika wor alles Aanescht wei gudd. Sudafrika huet mat Vollgas ugefangen an huet et eisen Leiwen nett liecht gemeet. Am Minutentakkt huet den Markus Anselm mat spektakulairen Paraden d'Leiwen am Mätch gehaalen. Eng 2 Minuten Stroof vum Pit Sinner huet der letzebuerger Defense et nett mei liicht gemach an obwuel sie dess iwerstanen hun huet den Samaai Hutman an der 5 Minut op 1-0 fir seng Farwen erangesaat.
Lues an Lues konnten Letzbuerger sech vum Drock vun den Sudafrikaner leisen, an den Sacha Backes huet esou guer op 1-1 ausgeglach. Den Coach Duo Fical an Bierchen konnten trotzdem secher nett zefridden sin mat enger Schossstatistik vun 14-3 zu Gonschten vun den Südafrikaner. Et kann een sech vielleicht firstellen waat an der Kabin gesoot guef, op allen Fall schengt et gehollef ze hun.
Letzebuerg huet wei ausgewisselt gewirkt obwuel den Mirko Mosr eng 2 Minuten Stroff huet missen hin huelen konnten Leiwen duerch den Benny Welter op 2-1 erop setzen. Letzbuerger hun ab deem Moment den Drock erheischt an an der 35 Minute huet daat Ganzt sech bezuelt gemaach wäll  Leiwen hun an nemmen 16 Sekonen 2 Gooler geschoss an esou op 4-1 erheischt.
Gooler goufen vum Benny Welter an Sacha Backes geschoss an esou konnt een mei berouescht an dei zweet Drettelpaus goen.
Den leschten Drettel wor an der Hinsicht speziell well Sudafrikaner dei mat 3 Gooler hannen luchen schon 7 Minuten virun Schluss hieren Gookipper geint en 6 Feldspiller ausgewisselt hun. Sie konnten esou Drock op Leiwen machen, waat sech och an der 57 Minut duerch den André Marais, deen op 4-2 verkierzen konnt,  bezuelt gemeet huet. Zum Gleck huet nemmen 12 Sekonnen mei speit den Kevin Grönlund mat engem 'empty net goal' den 3 Gooler Firsprong erem hierstellen. Nemmen en puer Sekonen virun Schluss hun Leiwen esou guer nach en Penalty zougesprach kritt deen awer deen  jonken Vlad Shelest leider nett eransetzen konnt.
Esou blouf et beim 5-2 fir Letzebuerger.
Beschten Spiller vum Mätch ass den Sacha Backes gewielt gin.
Letzbuerg steet mat 6 Punkten  elo op der Plaatz 2 hanner Blgarien 9 Punkten an virun Taipei 5 Punkten, Turkmenistan 4 Punkten, Türkei 3 Punkten an Südafrika 0 Punkten.
Am leschten Mätch vum Daag huet Bulgarien mat 6-2 geit Turkmenistan gewonnen.
Artikel vum Liam Mc Evoy