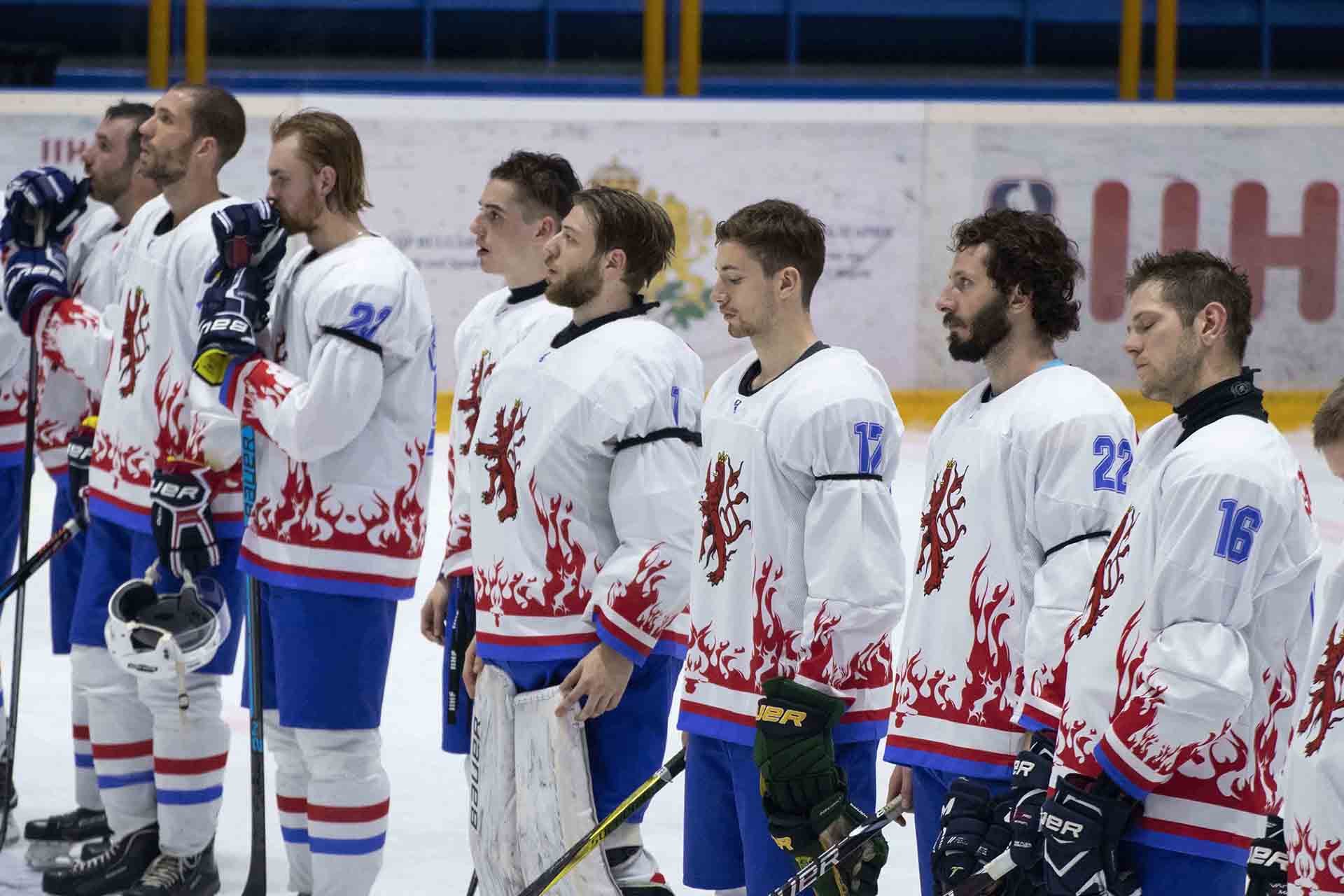 Luxembourg fall to Chinese Taipei in 6-minute blitz
Hockey can be a cruel sport sometimes. One minute you're in control, you have momentum and the score on your side and then in a matter of seconds that can all change. That was the case for Luxembourg tonight. A 6-minute, 3-goal blitz from Chinese Taipei made the difference in what was an intense physical battle from start to finish. 
Luxembourg entered game 2 full of confidence after their grinding win the previous night against Turkey, a team they had struggled to beat in the past. The squad were well aware of Chinese Taipei's dependency on their top line and from the first whistle set the tone with some bone rattling hits. Olivier Biver, Colm Cannon and Benny Welter in particular did not shy away from using their size advantage to punish the speedy Taipei players. The tactic appeared to work as Luxembourg was successful in shutting down the tournament's top scorer, Weng To. Towards the end of the first period Luxembourg would be awarded a penalty shot as a Chinese Taipei player had illegally covered the puck in the crease. Up stepped Colm Cannon and a slick move to the backhand had Taipei goalie He Wei-Chih on his belly, unfortunately at the last second Cannon was unable to lift the puck into the net and the save was made. The period would end even at 0-0 and 11-13 in shots to Taipei.
The 2nd period would begin much the same as the first, it was becoming clear this game was going to come down to who wants it more. On 30:01 Luxembourg's Mirko Mosr would continue his fine form and score to finally break the deadlock, 1-0 Luxembourg. What followed in the next 8 minutes resembled a heavyweight boxing match. The Lions' lead would last 80 seconds as Lin Hung-Ju would tie it up. At 34:52 tournament top-scorer Weng To would score his 5th goal in less than 2 games to give Chinese Taipei the lead, 1-2. That goal announcement had barely ended when Lux would strike back a mere 39 seconds later to even the game again at 2-2, Sacha Backes with his 2nd of the tournament. The pendulum was not finished swinging in this period as at 38:28 Colm Cannon atoned for his missed penalty shot to give Luxembourg the 3-2 lead going into the 3rd period.
Entering the 3rd period it was advantage Luxembourg, but their hold on the game appeared on the edge of a knife. The period was only 83 seconds old when a careless lapse in concentration lead to a "too many men on the ice" penalty for Luxembourg and Chinese Taipei's deadly powerplay went to work. At 42:47 Wang Bai Chieh-Min would use a clever move to shoot between a Luxembourg defenders legs and past an unsuspecting Marcus Anselm in goal. 3-3. Taipei would keep pushing and got their reward at 45:55 as Shen Yen-Li would get the go ahead goal. 3-4. The horror would continue for the Lions as less than 90 seconds later Philippe Bechtold was left exposed to a 2 on 1 and his spectacular diving block would clear the puck, but trip the Taipei forward too. The outstanding Taipei powerplay would punish once more as Weng To would score his 8th point (6 goals, 2 assists) in just 2 games. In hockey we would call this the backbreaker goal, however, this Luxembourg team has character. At 57:01 Colm Cannon would score a shorthanded goal to give Luxembourg a slither of hope. Unfortunately Chinese Taipei held on for the 4-5 victory and all 3 points. 
Wednesday is a rest day at the tournament as every team will prepare to go back to battle on Thursday 25th April. Next up for Luxembourg is a matchup against the bottom ranked team South Africa at 12:00 CEST. Expect the Lions to come out roaring in that game as the time is now to make a statement and show that they are still gold medal contenders.
LUX MVP: Colm Cannon

Le Luxembourg s'incline face au Taipei chinois en 6 minutes fatidiques
Le hockey peut être un sport cruel parfois. En quelques secondes, vous pouvez perdre le contrôle, l'élan et l'avantage au score. Ce fut le cas pour le Luxembourg ce soir. Un blitz de 6 minutes et 3 buts de Taiwan ont fait la différence dans ce qui a été une bataille physique intense du début à la fin. 
Le Luxembourg est entré dans ce match 2 en pleine confiance après sa victoire de la veille contre la Turquie, une équipe qu'il n'avait jamais battue facilement auparavant. Dès le coup d'envoi, l'équipe a donné le ton. Olivier Biver, Colm Cannon et Benny Welter en particulier n'ont pas hésité à utiliser leur avantage physique pour dominer les véloces joueurs de Taiwan. La tactique semblait fonctionner puisque le Luxembourg réussissait même à rendre muet le meilleur buteur de la compétition, Weng To. Mieux encore, vers la fin de la première période, le Luxembourg se voyait accorder un penalty, un joueur taiwanais ayant couvert illégalement la rondelle dans le rectangle du gardien. Colm Cannon prenait l'avantage dans un mouvement glissant vers le revers mais il ne parvenait pas à soulever le puck pour achever le travail et permettait au gardien de but de Taipei, He Wei-Chih, de réaliser un bel arrêt. La période se terminait sur un 0-0 et 11-13 aux tirs en faveur de Taipei.
La 2ème période commençait à peu près de la même manière que la première. Il devenait clair que l'équipe qui en voulait le plus l'emporterait. A 30:01, le Luxembourgeois Mirko Mosr confirmait sa belle forme et marquait pour finalement sortir le Luxembourg de l'iornière, 1-0. Les 8 minutes suivantes ressemblaient à un match de boxe de poids lourd. L'avance des Lions allait durer 80 secondes et Lin Hung-Ju égalisait. A 34:52, Weng To marquait son 5ème but en moins de 2 matchs et donnait l'avantage à Taiwan, 1-2. L'annonce de ce but était à peine terminée que Luxembourg revenait à la marque 39 secondes plus tard par Sacha Backes, inscrivant par la même son deuxième du tournoi. Le pendule tournait toujours dans cette période et à 38:28, Colm Cannon, véxé pour son tir de pénalité manqué, redonnait l'avance 3-2 au Luxembourg.
A l'entrée en 3ème période, Luxembourg revenait avec l'avantage sur la glace, mais leur emprise sur le jeu semblait fragile. Et cette avance ne dura que 83 secondes puisqu'un manque de concentration conduisait à un penalty stupide pour "trop d'hommes sur la glace". Taiwan ne se privait pas de profiter de cette supériorité numérique. Ainsi à 42:47, Wang Bai Bai Chieh-Min faisait preuve de ruse avec un tir entre les jambes d'un défenseur luxembourgeois qui crucifiait un Marcus Anselm pourtant irréprochable dans le but luxembourgeois. 3-3. Taipei continuait à pousser et obtenait sa récompense à 45:55 par Shen Yen-Li. 3-4. Le cauchemar allait continuer pour les Lions puisque moins de 90 secondes plus tard, Philippe Bechtold seul contre 2 taiwanais allait dans un bloc-plongeon emporter certes la rondelle, mais aussi l'attaquant de Taiwan. Dans le powerplay qui suivait, Taiwan punissait une fois de plus Luxembourg et Weng To marquait son 8ème points (6 buts, 2 passes décisives) en seulement 2 matchs. En hockey, nous appellerions cela le but décisif, mais c'était sans compter sur le caractère de cette équipe luxembourgeoise. A 57:01, Colm Cannon inscrivait un but en infériorité numérique et redonnait l'espoir au Luxembourg. Malheureusement, Taiwan tenait bon et remportait la victoire 4-5 ainsi que les précieux 3 points. 
Ce mercredi sera jour de repos dans le tournoi. Jeudi à 12:00 CEST, Luxembourg jouera l'équipe d'Afrique du Sud, classée dernière. Attendez-vous à ce que les Lions sortent en force dans ce match, car le moment est venu pour eux de s'affirmer et de montrer qu'ils sont toujours en lice pour la médaille d'or.