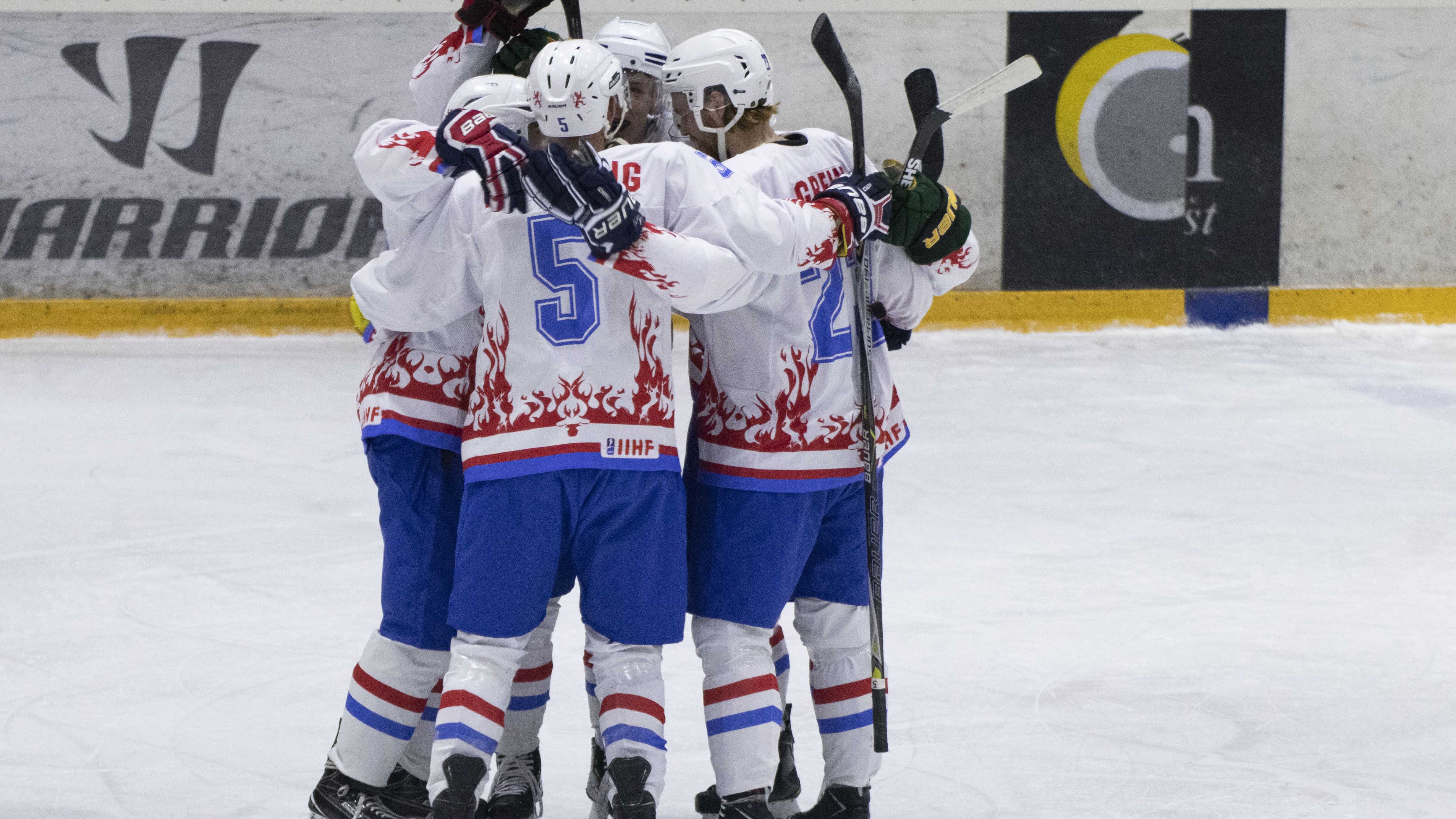 Luxembourg wins world championship opener in 5-goal thriller!
On day 1 of the IIHF Division III Ice Hockey World Championships in Sofia, Bulgaria, the opening match of the tournament saw Luxembourg face off against Turkey for the first time since 2016. In 2016 Turkey would dominate Luxembourg to an emphatic 10-2 win. Today would not be so one sided. 
Having being the side relegated from the higher division 2B last season, Luxembourg enter this season's World Championships in unfamiliar territory as the favourites to win the gold medal. That being said it was Turkey who would establish possession and offensive zone superiority early. A shot that rattled off of the Luxembourg cross-bar perhaps providing a needed wake-up call. The Lions would find their feet and after a careless tripping penalty from Turkey's Savas Akturk, Luxembourg went to work on the powerplay. The Beaufort Knights trio of Benny Welter, Claude Mossong & Mirko Mosr, who were outstanding throughout the game, would combine with Sebastian Grein and Philippe Bechtold to devastating effect. After calmly moving the puck around the zone, Mossong zipped the puck to Mosr who re-directed it between the Turkish goalie's legs and it was 1-0 to Luxembourg with 6 minutes left in the period. The Lions would hold onto the lead going into the intermission.
In the 2nd period Turkey would not allow themselves to be outplayed and re-established substantial offensive zone time. An unfortunate icing would mean Luxembourg's tired 3rd line would have to face-off in their own zone against a fresh Turkish 1st line. Turkey would seize on this advantage to tie the game 1-1 at 31:33 on a fine goal from Sait Bingol. The 2nd period would end tied but with momentum and the shot clock (28-20) in Turkey's favour. 
An exciting game to say the least, but the best was yet to come. The last 15 minutes of the 3rd period would be frantic as both teams pushed for victory. At 46:56 Luxembourg's Sacha Backes would connect on what seemed like endless offence from the "Tornado Luxembourg" 1st line of Backes, Marcus Eriksson and Colm Cannon. It was just reward as the Lions began to tilt the ice in the direction of the Turkish goal. However, in hockey, momentum can swing in an instant and just 5 minutes later Alp Elakas would tie the game again at 2-2 on the powerplay. The victory and 3 important points in this league-format tournament were slipping away until with just 2:21 mins left in the game Mossong scored assisted by Welter & Mosr. The Luxembourg bench erupted but Turkey was focused. They showed today that they are a team that will battle until the end and that is exactly what they did today. In the dying seconds of the game a Turkish shot bounced into the air, rolled along the back of the fantastic Marcus Anselm and landed on the goal line next to the post. Anselm would clear and the game was won. 
The first game of any tournament is difficult and against an opponent the calibre of Turkey, Luxembourg needed to erase the nightmare of 2016 and live up to their status as favourites in 2019. While there is a lot of hockey left to play, the Lions so far have done just that. Tomorrow Luxembourg will begin at 15:30 (CEST) against Chinese Taipei as their quest for Gold continues.
Le Luxembourg débute ses championnats du monde par une victoire dans un thriller à 5 buts !
Le tout premier match des Championnats du monde de hockey sur glace (Division III) à Sofia (Bulgarie) voyait le Luxembourg affronter la Turquie, et ce pour la première fois depuis 2016. En 2016, la Turquie avait archi-dominé le Luxembourg en l'emportant 10:2. Cette fois, le match ne fut pas du tout à sens unique.
Après avoir été relégué de la division supérieure 2B la saison dernière, le Luxembourg participe cette saison aux Championnats du Monde dans un rôle inédit puisque favori pour la médaille d'or. Néanmoins, ce fut la Turquie qui établit très tôt sa supériorité dans la possession et dans l'occupation de la zone offensive. Un tir fit même trembler la barre transversale luxembourgeoise mais eut le mérité de déclencher un réveil nécessaire. Les Lions allaient en effet ensuite beaucoup mieux trouver leurs marques. Après une pénalité contre Savas Akturk, le Luxembourg déploya toutes ses armes sur la phase de powerplay. Le trio des Beaufort Knights composé de Benny Welter, Claude Mossong et Mirko Mosr, exceptionnels tout au long du match, partageaient la glace avec Sebastian Grein et Philippe Bechtold avec un effet dévastateur. Après avoir calmement fait tourner la rondelle autour de la zone, Mossong trouvait Mosr d'une passe, qui la glissait entre les jambes du gardien turc. 1-0 pour le Luxembourg à 6 minutes du terme de la 1ère période. Les Lions garderont la tête jusqu'à la pause.
En 2ème période, la Turquie se rebellait et reprenait l'occupation de la zone offensive aperçue en début de 1er tiers-temps. Un « dégagement interdit » avait pour conséquence malheureuse que la 3ème ligne du Luxembourg, fatiguée, se retrouvait à affronter dans sa propre zone la 1ère ligne turque, fraîche pour sa part. La Turquie profitait de cet avantage pour égaliser 1-1 à 31:33 sur un beau but de Sait Bingol. La 2ème période se terminera ainsi sur une égalité, mais avec un momentum et un avantage aux tirs (28-20) plutôt en faveur de la Turquie.
Le match était passionnant, c'est le moins qu'on puisse dire, mais le meilleur restait à venir. Les 15 dernières minutes de la 3ème période furent frénétiques alors que les deux équipes se battaient bec et ongles pour la victoire. A 46:56, Sacha Backes inscrivait le deuxième but luxembourgeois sur ce qui semblait être une attaque sans fin avec ses compères de la 1ère ligne des Tornado Luxembourg, Marcus Eriksson et Colm Cannon. C'était une juste récompense dans une phase où les Lions avait largement inversé la tendance en termes d'occupation. Cependant, en hockey, toute domination est fragile et seulement 5 minutes plus tard, Alp Elakas égalisait à 2-2 sur un powerplay. On pensait la victoire et les précieux 3 points envolés jusqu'à ce que, à 2:21 minutes de la fin du match, Mossong marque, assisté par Welter & Mosr. Le banc luxembourgeois exultait mais les turques restaient concentrés. Ils ont montré aujourd'hui qu'ils étaient une équipe pugnace et ils firent durer le suspense jusqu'à la fin. Dans les dernières secondes du match, un tir turc rebondissait dans les airs pour finalement rouler sur le dos du fantastique Marcus Anselm et atterrir sur sa ligne de but à côté du poteau. Anselm intervenait et la partie était gagnée.
Le premier match d'un tournoi est toujours difficile. Face à un adversaire de la trempe de la Turquie, le Luxembourg devait effacer le cauchemar de 2016 et être à la hauteur de son statut de favori en 2019. Bien qu'il reste encore beaucoup de hockey à jouer, les Lions ont parfaitement entamé leur tournoi. Demain, le Luxembourg affrontera Taiwan à 15h30 (CEST) et la quête d'or se poursuit.