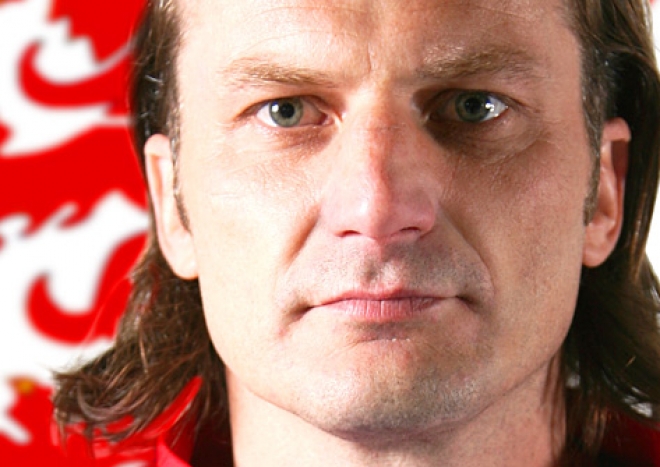 Marian Gallo new head coach
One of the big secrets for the next season was revealed during the general assembly of the Tornado Luxembourg at Kockelscheuer when Tornado president Monique Scheier introduced Slovakian Marian Gallo as the new head coach.



Gallo, 41, is not a new face in Luxembourgish ice hockey. He came to Luxembourg on September 21st in 2006 as assistant coach for the national team behind head coach Hakan Grönlund. After the departure of Grönlund at the end of the same season, Gallo took over the position of head coach for both, the national team of Luxembourg and the Tornado Luxembourg. Only two years later, the Tornado Luxembourg reached it's most successful season in club history, failing the promotion to Division 2 by a fraction of an inch.



However, the national team did not manage to promote to Division 2 and finished with a bronze medal at the World Championships in 2007, 2008 and 2009, which later went on to become four consecutive bronze medals. At the end of that season, Gallo's contract was not extended.



The year after was doomed to become the worst season after a very a long time. In 2010-2011, Yves Barthels was given the mission to fix everything that went wrong during the year before. Barthels had announced many changeovers, most of them having long term objectives. Marian Gallo was added to the staff again as assistant coach. A lot has changed ever since, most notably the fact that many young talents have been integrated to the system as well as the fact that the Alter Domus Cup Luxembourg has evaluated to a notable and promising competition. Barthels and Gallo also managed to successfully integrate 5 young talents to the national team this season, a work that will most certainly pay off in the next few years.



However, Barthels will not be able to continue his work with the Tornado Luxembourg and the national team for personal reasons. His work certainly had a huge impact on different levels. The 37-year-old will become head of the development program and will work on a very significant long term improvement.



The Luxembourgish Ice Hockey Federation, in cooperation with the Tornado organization, put it's trust in Marian Gallo to continue the development of the past season and to finally score good results for the club again. Nevertheless, the 44-year-old has set terms to this agreement. He wants the players to develop a better mentality and increase their work ethic. Gallo can count on the respect of the players as he has been a professional player for over 9 years.