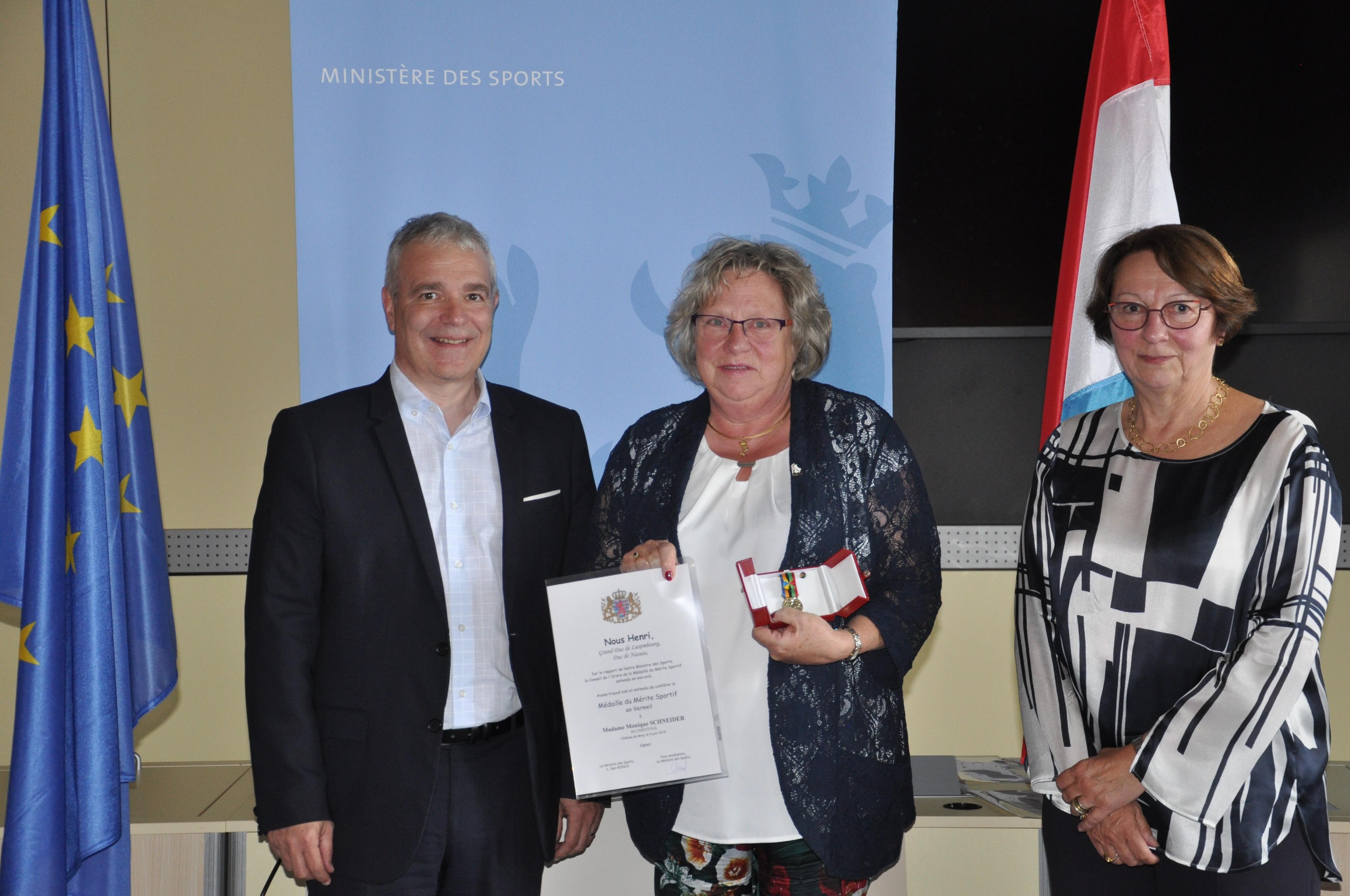 Monique Scheier awarded "Médaille du mérite sportif en vermeil"
On 

Wednesday, July 3, 2019, 

General secretary of the Luxembourg Ice Hockey Federation (

FLHG) Monique Scheier was presented with the "Médaille du mérite sportif en vermeil" in the name of Henri, Grand Duke of Luxembourg.
The Minister of Sports, Dan Kersch, proceeded to the official presentation of the decorations of the 37th class in the National Order of the Medal of Sports Merit at the National Sports Institute in Luxembourg-Fetschenhof.
On this occasion, 49 sportsmen, referees and leaders, from 20 sports federations, were awarded the medal of the sporting merit in bronze (19), silver (14) and vermeil (16) in recognition of the services rendered to the cause of Luxembourgish sport for many years.
In his address, Minister Dan Kersch warmly thanked all the winners of this 37th promotion for their commitment and dedication in the interest of the Luxembourg sport and he also noted the role of ambassador throughout the world of our best athletes . In particular, he stressed that the Luxembourg sports movement can not do without volunteering and therefore underlined the importance to be given to such decoration as an official recognition for the services provided to the country and the Grand Ducal sports family.

- FR - 

Le mercredi 3 juillet 2019, la Médaille du mérite sportif en vermeil a été remise à la secrétaire générale de la Fédération luxembourgeoise de hockey sur glace (FLHG) Monique Scheier, au nom de Henri, grand-duc de Luxembourg.

Le ministre des Sports, Dan Kersch, a procédé à la remise officielle des décorations de la 37e promotion dans l'Ordre national de la médaille du mérite sportif à l'Institut national des sports à Luxembourg-Fetschenhof.

À cette occasion, 49 sportifs, arbitres et dirigeants, issus de 20 fédérations sportives, ont été décorés de la médaille du mérite sportif en bronze (19), en argent (14) et en vermeil (16) en reconnaissance des services rendus à la cause du sport luxembourgeois durant de nombreuses années. 

Dans son allocution, le ministre Dan Kersch a remercié vivement tous les lauréats de cette 37e promotion pour leur engagement et leur dévouement dans l'intérêt du sport luxembourgeois et il a relevé aussi le rôle d'ambassadeur à travers le monde entier de nos meilleurs athlètes. Il a notamment insisté sur le fait que le mouvement sportif luxembourgeois ne saurait se passer du bénévolat et a souligné, dès lors, l'importance à accorder à pareille décoration en guise de reconnaissance officielle pour les services rendus au pays et à la famille du sport grand-ducal.
http://sport.public.lu/fr/actualites/articles/2019/07/ordre-merite-sportif-2019/index.html