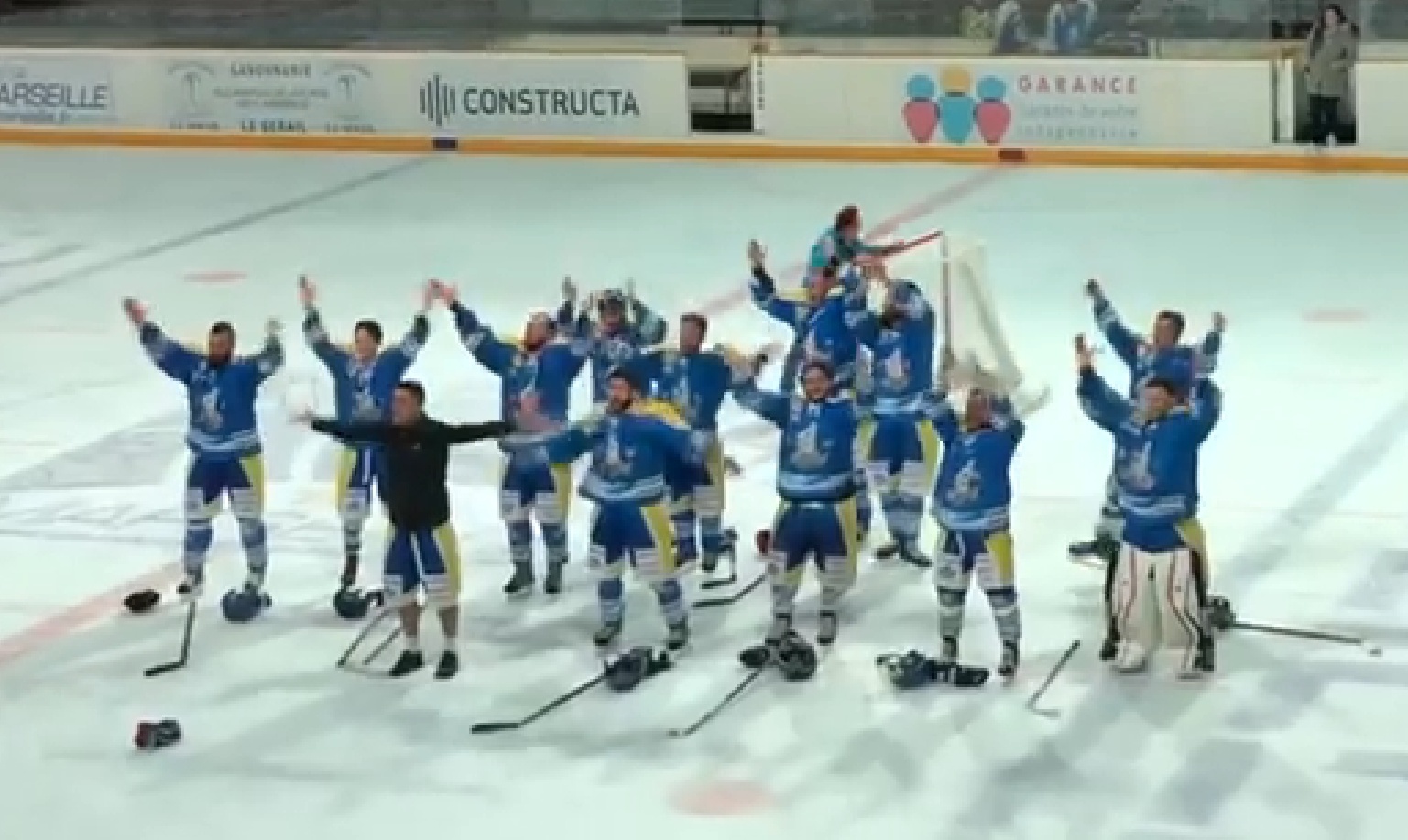 Overtime loss ended Tornado's season
47 seconds separated Tornado Luxembourg from the 3rd playoff round in the French 3rd division. Toulon Boucaniers got a penalty shot in the last minute of the game, scored and managed to take the game to overtime. Toulon was also the team which scored on overtime.
Tornados travelled to Marseille, where the game was played, with 6-5 lead after the first game of the 2nd playoff round. The team went to Marseille by sleeping bus on Friday evening, had a nice day in the city and was well prepared for the game.
It was Toulon who started scoring in the first period after only 3 minutes of play. Toulon came to the game with 12 players while Tornado had full 3 lines. Toulon had chosen to stretch their forward to neutral zone in their breakouts. However, in the first period, the Toulon defenders couldn't deliver the puck forward fast enough and Tornado's organized fore check didn't have too much problems to interrupt the attacks.
The tactics paid off and captain Scheier managed to take score on a rebound and tie the match in the last Tornado game of his career.
At the end of the period Tornado suffered a few penalties but it didn't stop Ossi Uotila from cutting off a pass from a Toulon defender and he made the 2-1 goal to Tornado after a breakaway when Tornado was 2 men shorthanded. Uotila has had a heavy end of the season with injuries and scratches. His relief and joy was seen in his celebrations.
Tornado was in a good flow and it continued in the 2nd period when Henri Öörni's slapshot found its way to the top corner and the game was 3-1. At this point Toulon needed four goals to reach the spot in the 3rd round.
In the second period Toulon managed to improve the breakouts. Their defenders delivered pucks faster to the neutral zone and their forwards could attack against a less organized Tornado defence. This gave a lot of chances to Toulon. Despite many, many spectacular and magical saves from Gilles Mangen, who was also playing his last Tornado game and who was chosen as Tornado's best player in the game,  Toulon managed to execute two of their chances so after 40 minutes the game was 3-3.
In the third period Tornados put all their effort to protecting the lead in the series. In worked pretty well and they managed to kill a few penalties. Just two and half minutes before the end of the game Toulon took a penalty which gave a very good chance for Tornado to kill the time. It worked well in the beginning but then suddenly one minute before the end of the game the worst thing happened. During Tornado's attack, Toulon managed to steal the puck and sent a fast two-on-one counter attack towards Tornado's goal. Colm Cannon had to hook a shooting Toulon player, which led to a penalty shot which the Toulon player didn't miss and the game went to the overtime. And it became a one goal game.
Overtime was played 3 against 3 which means that for sure there will be many chances to score. Unfortunately the same nightmare as last season was repeated, a rebound bounced to Toulon's player and Tornado's season was suddenly over. A huge disappointment after a 3 goal lead in the series.
The locker room was quiet after the game. There were not too many words that could have been said. Despite the fact that the season was a success for Tornado, it doesn't help after this kind of lost. This season we managed to reach our aim to go to the second round and especially in the playoffs, players and fans got to experience some amazing moments with these exciting games in front of numerous people and exotic trips.
Still much more was offered. Tornado is an experienced team which should be able to show the maturity when it is needed. Especially in the Toulon series Tornado had a big lead to protect but we didn't manage to do it. Something is missing as the team seems to melt at those points. That's maybe something each player and the whole organization should think about for the coming season.
The fact is that in hockey there is only one team who can celebrate the victory after the season. 30 teams in the league will end the season more or less in bad feelings. It hurts now, but maybe time will cure. 
A massive thank you to you, the fans for this season! Enjoy a great and relaxing summer and join us for the ride and even greater experiences next season, we will be again a #biggertogether. 
********************************************
LU
Eng Verlängerung huet d'Saison vun Tornado en Enn gesaat.     
Et hunn graad mool 47 Sekonnen Tornado vun der 3ter Playoff-Ronn an der dretter franséischer Divisioun gefehlt. Toulon Boucaniers huet een Penalty Schoss kritt an huet doduerger d'Verlängerung erreecht, wou se déi Equipe wuaren déi d'Spill vir sech entscheeden kunnt.
Tornado sin mat enger 6-5 Féierung noom éischten Spill an der zweeter Playoff Ronn, op Marseille gefuer, wou dest Spill stattfonnt huet. D'Team ass mat engem Schloofbus op Marseille gefuer, huet een schéinen Daag an der Staat gehaat, an sech gudd op d'Spill préparéiert hunn.
Toulon huet den éischten Goal am éischten Drëttel no nemmen 3 Minutten geschoss. Toulon ass mat 12 Spiller ungetrueden, während deem Tornado komplett 3 Linen haat. Toulon huet hieren Stiermer an d'neutral Zon ou se dann den Pass vun hieren Verteideger sollten mathuelen. Am éischten Drettel, konnten hier Verteideger den Puck net schnell genug zouspillen, Tornado huet doduerger net zevill Problemer gehaat hier Ungreff ofzewieren. Daat huet sech bezuelt gemaach an den Kapitän Scheier huet et gepackt den Nooschoss ze verwärten an an sengem leschten Match an senger Carrière vir Tornado, domadder aus ze gläichen.
Zu Enn vun desem Drettel huet Tornado e puer Stroofen kritt awer dest huet den Ossi Uotila net dovunner oofgehaal een Pass vun den Toulon-Verteideger oofzefänken an een Konter ze laafen deen hien dann matt engen Goal (2-1) oofgeschloss huet an dest obwuel Tornado 2 Mann manner um Äis haaten.
Den Uotila huet eng schwéier Saison mat villen Verletzungen gehaat. D'Erliichterung dass hien erem spillen kann huet een an sengem Jubel gesinn.
Tornado wuar an engem gudden Laaf an dem Henri Öörni säin Schlaachschoss huet säin Wee an den ieweschten Wenkel fonnt, an d'Resultat op 3-1 erhéischt. Zu dem Moment hätt Toulon 4 Goaler schéissen missten vir an véierels Final ze kommen.
Am zweeten Drettel huet Toulon et faerdeg bruecht vir hier Päss un den Mann ze brengen. Hier Verteideger hunn d'Pucken méi schnell an déi neutral Zon gespillt, an hier Stiermer konten déi manner gudd organiséiert Tornado Verteidegung attackéieren. Doduerger huet sech Toulon vill Chancen erspillt. Trotz villen immens gudden gehaalenen Schess vum Gilles Mangen, deen och säin leschten Tornado Match gespillt huet, an als beschten Tornado Spiller gewielt gin ass, huet Toulon et faerdeg bruecht zwou vun hieren Chancen ze ergräifen, sou dass et no 40 Minuten 3-3 stoung.
Am dretten Drettel hunn Tornado alles drun gehaangen vir hier Féierung bäizehaalen an och ze verteidegen. Dest as och zimlech gudd gaangen an sie hun och e puer Ennerzuelspiller gudd iwwerstaanen. Nemmen 2 ½ Minuten virum Enn vum Spill huet Toulon eng Stroof kritt wou Tornado et erméiglecht hätt op Zäit ze spillen. Et ass alles um Ufank gudd gaangen, mais op eenmool eng Minutt virum Enn vum Spill ass daat Schlemmst geschitt waat geschéien konnt. Während Tornado attackéiert huet, huet Toulon et gepackt den Puck oofzefänken an en schnellen 2-1 Konter Attack ze spillen. Dest ass dann esou ausgaangen dass Tornado Spiller deen Spiller vun Toulon wou den Puck haat mam Schléier zereck gehaalen hun, waat dunn zu engem Stroofschoss vir Toulon komm ass, an sie deen erangeschoss hunn waat zur Verlängerung gefouert huet, wou den nächsten Goal entscheedend ass.
D'Verlängerung ass 3 géint 3 gespillt ginn, waat normalerweis keen Problem gewiecht waer vir Goaler ze schéissen. Leider huet sech den selweschten Alpdraam wéi déi lescht Saison widderholl, een Oofpraller ass bei een Spiller vun Toulon gesprongen, an desen huet deen néidegen Goal geschoss, duerch den den Tornado hier Saison  domadder eriwwer wuar. Eng wierklech grouss Enttäuschung no engem 3 Goal Viirdeel deen se am éischten Match haaten.
Noom Spill wuar et roueg am Vestiaire. Et konnt een och net vill iwwert daat Spill zielen. Obwuel des Saison een vollen Succès vir Tornado wuaren, helleft daat leider net iwwert esou en Verloscht, am Senn vun verléieren, ewesch. Maer hunn et gepackt eist Ziel, des Saison déi zweet Ronn ze erreechen, an speziell an den Playoff Matcher konnten eis Fans ganz speziell Momenter an spannenden Matcher materliewen.
Et ass emmer méi offréiert ginn. Tornado as een erfahrent Team déi et faerdeg mussen brengen hier  Erfahrung, am Moment wann se gebraucht gett, ze weisen an ofzeruffen. Speziell an den Toulon Matcher huet Tornado e puer Mool een groussen Virsprong gehaat mais sie konnten desen leider net bäibehaalen. D'Team huet sech zevill op déi gewonnen Féierung verlooss. Et ass villäicht och dest wouriwwer all Spiller an déi ganz Organisatioun vir déi nächst Saison driwwer nodenken sollen.
Den Fakt ass dass et am Hockey nemmen een Team gett daat eng Victoire um Enn vun der Saison feieren kann. Méi wéi 30 Teams aus der Liga haalen hier Saison mat méi oder manner gudden Gefiller op. Et deet elo wéi, daat ass richteg, mais hoffentlech heelt Zäit och des Wonnen, an dann sin maer an der nächster Saison erem e besschen méi #biggertogether.