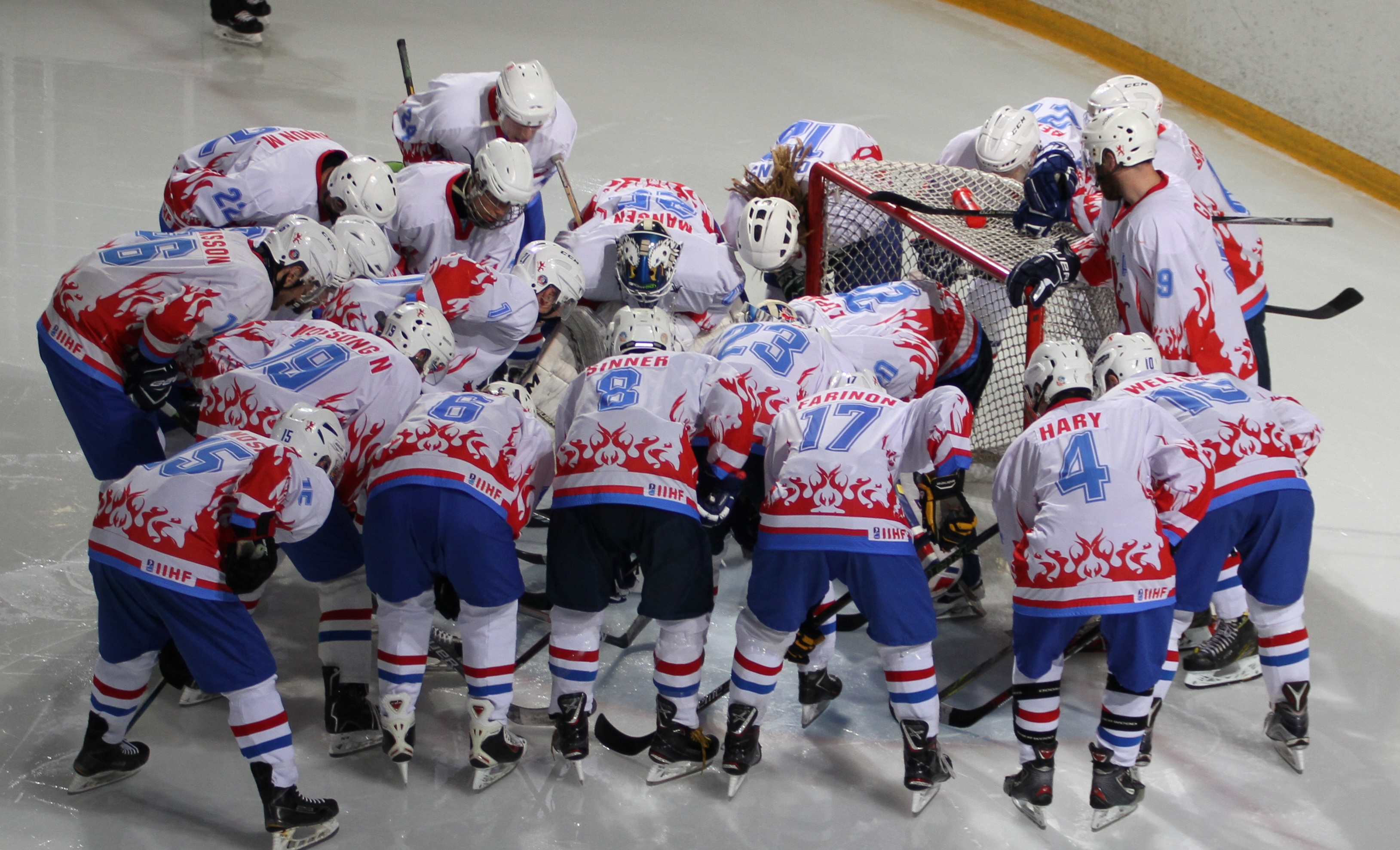 Preview op turnéier / Tournament preview / Aperçu du tournoi (LU + EN + FR)
LU 

2018 IIHF Weltmeeschterschaft vun der Divisioun IIB fënnt vum 14. bis den 20. Abrëll zu Grenada, Spuenien statt. Als Champion vun der Divisioun III war Team Lëtzebuerg 2017 an Divisioun IIB eropgestigen. Déi lescht Kéier wou Lëtzebuerger op dësem Niveau gespillt huet war 2004. 4 Spiller dei demols dobäi waren (Phil Lepage, Ronny Scheier, François Schons, Benny Welter), sinn dëst Joer nees dobäi.
Am Verglach mam leschte Joer, guffen nëmme kleng Ännerungen um Roster virgeholl. De Robo Beran, Eric Wampach, Joel Holtzem, Ben Houdremont an Steven Minden sinn dëst Joer leider net dobäi. Mä dofir awer de Sebastian Grein, Kevin Grönlund, Claude Mossong, Mikael Äijälä, Raoul Kramer, Philippe Bechtold, a Pit Sinner.
D'Géigner dëst Joer sinn Gastgeberland Spuenien, Neuseeland, Israel, Mexiko an Nordkorea. Laut den Previsioune gesäit et esou aus wéi wann Spuenien an Neuseeland d'Favoritten vun der Grupp kéinten sinn. Spuenien huet d'lescht Joer an der Divisioun IIA gespillt, esou datt si gewinnt sinn op heigem Niveau ze spillen
Neuseeland, dat d'lescht Joer zweeten ginn ass, schéngt dëst Joer wëllen alles ze ginn, sinn se dach net zwou Wochen virum Tourneier op en Trainingscamp an Lettland geflunn. Si hunn och e puer nei Spiller, zum Beispill de Matthew Schneider, dee vun der NHL zreckbehalen ginn ass.
Dat schwaarze Päerd vun der Grupp kënnt de Lëtzebuerger hiren éischte Géigner sinn, Israel, dat lescht Joer drëtten ginn ass. Entscheedend wäert sinn op hiren Starplayer, den Eliezer Sherbatov matkommen wäert oder net. Den Sherbatov huet déi lescht Saison fir Slovan Bratislava an der Hockey League (KHL) gespillt. KHL ass déi russesch Hockey Liga an déi zweet-bescht Liga an der Welt, no der NHL.
Wahrend der Weltmeeschterschaft spillt all Equipe emol géint all aner Equipe. D'Equipe, déi die meeschte Punkten kritt, gewënnt wahrend d'Equipe mat de mannste Punkte erof klemmt. Et gesäit also aus wei wann Mexiko an Nordkorea d'Haaptgéigner fir Team Lëtzebuerg wäerte sinn. E grousst Ziel fir Team Lëtzebuerg waert also sinn den Ofstig ze vermeiden, an dofir kënnt schonns eng eenzeg Victoire genuch sinn. D'Lëtzebuerger Léiwen spillen hir lescht zwee Spiller géint dës béid Teams.
Well d'Opstellung vun de Lëtzebuerger genee sou staark ausgesäit wei lescht Joer, kéint dëst déi perfekt Geleeënheet sinn, fir e nächste Schrëtt um Wee den Lëtzebuergeschen Äishockey op engem méi héije Niveau ze stabiliséieren. Team Luxembourg ass eng gutt Mëschung vun erfuerene Spiller wéi dem Benny Welter an dem Ronny Scheier an der nächster Generatioun wéi dem Mirko Mosr an dem Sebastian Grein. Och vill vun de wichtege Spiller wéi de Colm Cannon an de Phil Lepage sinn am beschten Aishockeysalter.
Kommt mat op d'Rees vu de Léiwen op Weltmeeschterschaft andeems dir eis op Facebook an Instagram liked. Do ginn et dann méi detailléiert Analysen iwwert d'Géigner, awer och d'Interviewen vun de Spiller an nach vill aner interessant Sachen. Bleift drun.
**************************
EN

The 2018 IIHF World Championship tournament in Division IIB will be played in Granada, Spain between 14th and 20th of April. As the 2017 champion of Division III, Team Luxembourg was promoted to Division IIB. Last time Luxembourg played on this level was in 2004. From that team there are still 4 players (Phil Lepage, Ronny Scheier, François Schons, Benny Welter) who will participate in this year's tournament.

There are only some small changes compared to last year's victorious Luxembourg roster. Robo Beran, Eric Wampach, Joel Holtzem, Ben Houdremont and Steven Minden are not available this year, but Sebastian Grein, Kevin Grönlund, Claude Mossong, Mikael Äijälä, Raoul Kramer, Philippe Bechtold and Pit Sinner are the potential new faces this year.

The other teams in the competition this year are tournament host Spain, as well as New Zealand, Israel, Mexico and North Korea. According to the forecasts it looks like Spain and New Zealand could be the favorites in the group. Spain was relegated last year from division IIA so they are used to playing on a high level.

New Zealand was 2nd last year but it seems they are putting a lot of effort into the tournament this year as they went for a training camp to Latvia already two weeks before the tournament. They also have a few new players, for example Matthew Schneider who has even been drafted to NHL.

The black horse of the group could be Luxembourg's first opponent Israel who was 3rd last year. The biggest factor is if their star player Eliezer Sherbatov will come or not. Sherbatov played last season in KHL team Slovan Bratislava. KHL is the Russian league and the second-best league in the world after NHL.

In the tournament, the teams will play one game against each other team. The team who gets most points will win while the team with the least points will relegated. So, it looks like Mexico and North Korea will be the main opponents for Team Luxembourg. To avoid the relegation could be a first aim for Team Luxembourg and one win may be enough for that. The Luxembourg Lions will play their last two games against those teams.

Since the roster of Team Luxembourg looks at least as strong as it was last year, this could be a perfect chance now to take a further step in Luxembourg hockey to stabilise a position on the higher level. Team Luxembourg is a good mixture of experienced players like Benny Welter and Ronny Scheier and future generation like Mirko Mosr and Sebastian Grein. Also many of the key players like Colm Cannon and Phil Lepage are in the best age as a hockey players.

Join in on the journey of the Lions in World Championships by following us on Facebook and Instagram. There will more detailed analyzes about the opponents but also players' interviews and lots of other interesting stuff. Stay tuned. 

**************************
FR


Le Championnat du monde 2018 de l'IIHF en Division IIB se déroulera à Grenade, en Espagne, du 14 au 20 avril. En tant que champion 2017 de la Division III, Team Luxembourg a été promu en Division IIB. La dernière fois que le Luxembourg a joué à ce niveau, c'était en 2004. De cette équipe de 2004 subsistent 4 joueurs (Phil Lepage, Ronny Scheier, François Schons, Benny Welter) qui participeront encore au tournoi de cette année.
Il n'y a que très peu de changements par rapport à la liste des vainqueurs de l'année dernière. En effet Robo Beran, Eric Wampach, Joel Holtzem, Ben Houdremont et Steven Minden ne sont pas disponibles cette année, mais Sebastian Grein, Kevin Grönlund, Claude Mossong, Mikael Äijälä, Raoul Kramer, Philippe Bechtold et Pit Sinner sont les nouveaux visages potentiels cette année.
Les autres équipes en compétition cette année sont l'Espagne, la Nouvelle-Zélande, Israël, le Mexique et la Corée du Nord. Selon les pronostics, l'Espagne et la Nouvelle-Zélande devraient être les favoris du groupe. L'Espagne a été reléguée l'année dernière de la division IIA, et est habituée à côtoyer un niveau élevé.
La Nouvelle-Zélande était 2ème l'année dernière, mais il semble qu'ils aient mis toutes les chances de leur côté afin de bien figurer dans le tournoi cette année. Ils se sont rendus en Lettonie pour un camp d'entraînement de deux semaines avant le tournoi. Ils ont aussi quelques nouveaux joueurs, comme Matthew Schneider qui a été repêché dans la LNH au cours de sa carrière.
L'outsider du groupe pourrait être Israël, premier adversaire du Luxembourg et 3ème lors de l'édition précédente. La question cruciale est de savoir si leur joueur vedette Eliezer Sherbatov sera du voyage ou pas. Sherbatov a joué la saison dernière dans l'équipe du Slovan Bratislava évoluant en KHL. La KHL est la ligue russe et la deuxième meilleure ligue au monde après la LNH.
Dans le tournoi, chaque équipe jouera l'une contre l'autre. L'équipe qui obtient le plus de points obtiendra son sésame pour la division supérieure tandis que l'équipe avec le moins de points sera reléguée. Il semble donc que le Mexique et la Corée du Nord soient les principaux rivaux de l'équipe du Luxembourg dans la course au maintien. Car éviter la relégation est le premier objectif pour Team Luxembourg et une victoire pourrait suffire pour cela. Les Lions de Luxembourg disputeront leurs deux derniers matches contre ces équipes.
Comme la liste de l'équipe du Luxembourg semble au moins aussi solide que l'année dernière, ce pourrait être l'occasion parfaite pour le hockey luxembourgeois de faire un pas de plus en stabilisant une position au plus haut niveau. Team Luxembourg disposera d'un bon mix de joueurs expérimentés comme Benny Welter et Ronny Scheier et des générations futures comme Mirko Mosr et Sebastian Grein. De plus, bon nombre de joueurs clés comme Colm Cannon et Phil Lepage ont le meilleur âge pour jouer au hockey.
Participez au voyage des Lions aux Championnats du monde en nous suivant sur Facebook et Instagram. Vous y trouverez des analyses détaillées sur les adversaires mais aussi des interviews de joueurs, et beaucoup d'autres choses intéressantes. Restez à l'écoute.