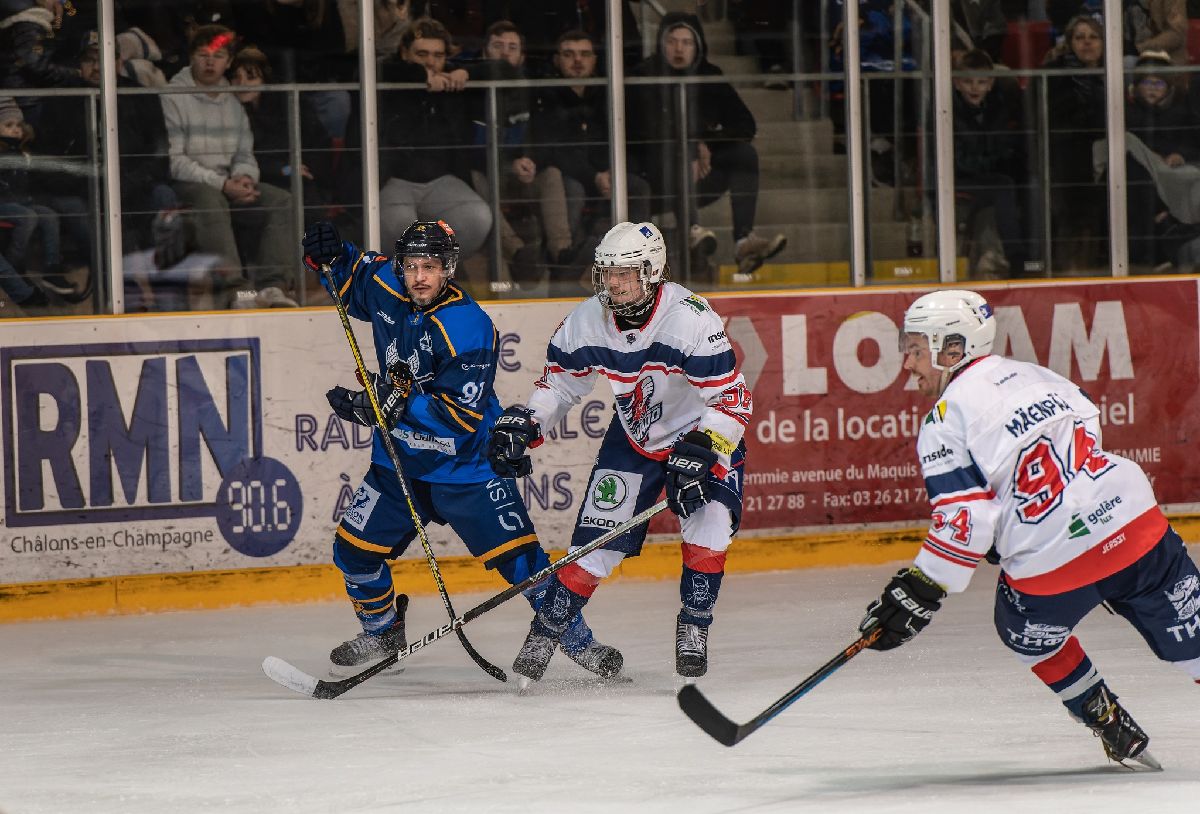 The turning point of the season
The first 2 steps of this beginning of January were too high for our Tornado and the score of the 2 games against Chalons (January 7th) and Dijon (January 14th) are without any contest. The blues lost 7-2 against Chalons, 3rd in the championship, and then 8-1 against Dijon, solid leader, a week later. Both of these teams are well above the Tornado this season and their respective places in the standings are well deserved.
However, on closer inspection, if these scores are similar, the content is not at all the same. Deprived of his two centres, Antoine Thomas and Colm Cannon, in Châlons, Christer Eriksson had to be very imaginative to compose two first lines up to the challenge. After the Christmas break, the boys were never able to exist against the 3rd place of the championship even if they had valiantly resisted in the 1st third before sinking.
Against Dijon, the performance was not at all the same. This time, it was rather the discipline that played tricks on the Tornado. First of all, 18 minutes into the first period, when the score was 0-0, Antoine Thomas (1) was given a major penalty (5 minutes) and an automatic misconduct penalty for the game (20 minutes). Dijon took advantage of this to open the score and went back to the locker room on the smallest of leads before piling up 3 goals in 30 seconds at the beginning of the second period. Colm Cannon gave them some hope before the end of the second period (4-1). In the last period, Burgundy took advantage of every power play to punish the Tornado, bringing the score to 8-1. The boys finished on the kneecaps without having much to reproach themselves for in terms of involvement.
This Saturday, the Tornado meet Compiègne, 5th of the group C with only 3 points ahead of our Luxemburgish team. It will even be a double confrontation with the return match in the Paris region on 4 February. Good results in these two games would secure a place in the playoffs, should Strasbourg II (9 defeats in 9 games) be able to overcome their pride at the end of the season. It is essential to pick up points over the next two weekends to avoid any setbacks and regrets. The first act will be held, without a doubt, in a Kockelscheuer rink that will be in turmoil, and this will be an additional asset for our boys. They are counting on you more than ever!