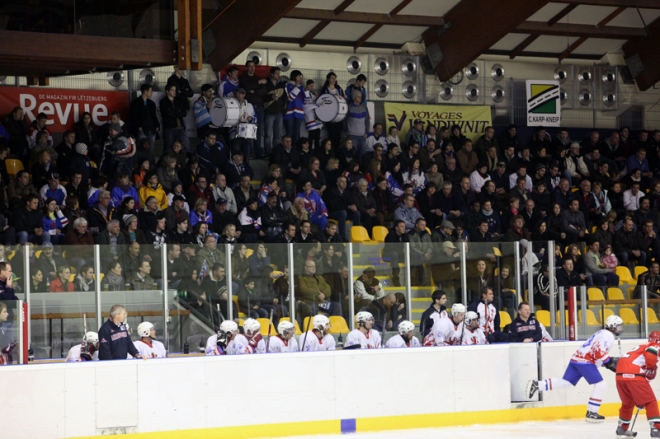 World Championship Div3 in Luxembourg!!!
Following our announcement a few months ago that the 2014 IIHF World Championship Div.III will be held in Luxembourg, we are now able to get you all the information that are needed!



The World Championship will be held from April 6-12th 2014, and this year, Luxembourg will play Bulgaria, Georgia, Hong Kong, North Korea and the United Arab Emirates. As you might have noticed, there will be a lot of unfamiliar teams to our fans and our players, but that will without a doubt be an advantage for team Luxembourg! The favorites for this tournament will probably be Bulgaria, North Korea and Luxembourg, while Bulgaria just got relegated from Division II after managing to stay in that division for the past 15 years and might therefore have a slight advantage. Also note that Luxembourg's first opponent will be Bulgaria on April 6th. However, Team Luxembourg hopes to count on the huge home ice advantage that the national team fans here in Luxembourg provided for the last time in 2010, where fans were going crazy and the Patinoire Kockelscheuer was (figuratively) on fire.



As usual, tickets will be available on pre-sale (link below) but also at the door, while we highly recommend to secure your tickets in advance if you want to be sure to get in. Remember, many games in 2010 were sold out even though the maximum capacity for the arena had already been raised. The tickets cost 15€ each and will give you entrance for a full day, meaning that you can see 3 games with 1 ticket.



Tickets can be bought via E-Ticket.lu :

https://www.e-ticket.lu/v2/entered.php?pg=search&lang=de&criteria=event&dtSearch=IIHF&x=0&y=0



Game Schedule

The game schedule can be found here: http://www.iihf.com/competition/382/



Further Information

There will of course be catering and merchandising booths in and around the arena. More information (for example team line ups, etc.) will be published as soon as possible.



For our foreign fans:

If you are coming by car or bus, you will probably not get in any trouble. There should be sufficient parking lots at the P&R Kockelscheuer which is not even 50m away from the ice rink. We recommend to check Google Maps or similar services for directions. If you are planning to come by airplane, we recommend to check flights with Luxair or all the other carriers that land on Luxembourg Airport (Air France, Alitalia, Austrian Airlines, British Airways, CityJet, easyJet, Hahn Air, KLM, LOT, Lufthansa, SAS, Swiss International Air Lines, TAP Portugal, Turkish Airlines, Vueling). After that, we either recommend taxi or public transportation. If you are coming by train, make sure to check Mobilitéit for connected buses from the different train stations.